Ferrari Superamerica 45
Superamerica 45 is a unique one-off model, which is styled internally by Ferrari Design and engineered and built in-house.
It will be collected by Ferrari enthusiast Peter Kalikow, who will celebrate 45 years since he first became a Ferrari client and will make its public debut on the 20th of May at the Villa d'Este Concorso d'Eleganza.
The style is simply superb featuring a carbon-fibre rotating hard-top with a rear screen and an entirely new boot from carbon fiber.
The side view is distinguished by double air vents on the front wing. Ferrari Superamerica 45 also has a chromed front grille and special burnished aluminium A-pillars, wing mirrors and door handles. All this chrome makes the car a little more overdressed to our taste, but it is explicitly specified by the owner.
Superamerica 45 has an exclusive Blu Antille paint, body-coloured wheels with a contrasting diamond finish to the spokes.
The bodywork has a lot of carbon fiber components - front splitter, side skirts and rear diffuser.
The interior also boasts dark blue carbon-fibre dash trim and driver zone. The cockpit features combination of Cuoio leather trim and Blu Scuro carbon fibre and a latest-generation touch-screen SAT NAV system.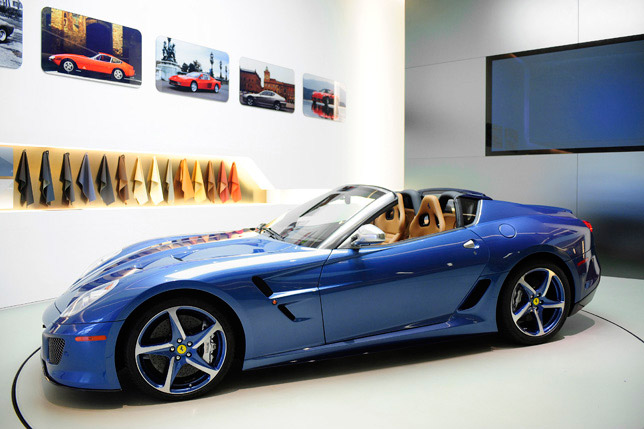 Source: Ferrari