Fiat 500 by Gucci
Fiat 500 by Gucci is an astonishing jewel ride exclusively designed to mark the celebrations of both the 150th anniversary of the unification of Italy and Gucci's 90th anniversary. This special edition of the 500 model is customized by Gucci Creative Director Frida Giannini in partnership with Fiat's Centro Stile.
Representing pure masterpiece collaboration between two of Italy's most respected brands, the Fiat 500 by Gucci made its public premiere at the opening day of Milan Fashion Week and will be also showcased at the Geneva International Auto Show in a dedicated Gucci pop-up store within the Fiat stand.
Frida Giannini shared, "In the 50s the Fiat 500 created a style revolution when it first hit the road.  It quickly become the must-have car of its time. Travelling in style has also been at the heart of Gucci ever since Guccio Gucci founded his company as a producer of leather trunks, suitcases and handbags in 1921. So, when Lapo Elkann suggested the idea of this collaboration it struck me as a perfect opportunity to create a new modern travel statement in this Gucci's 90th anniversary year."
In the terms of styling, the 500 by Gucci benefits an extraordinary, eye-catching glossy pearl glass finish in black or white. In addition to that, shiny chrome detailing, sophisticated 195/45 R16 lightweight alloys and Gucci signature green-red-green stripe, as well as logos on the hatchback and the doorpost further add exclusivity and extra style to Fiat urban mini.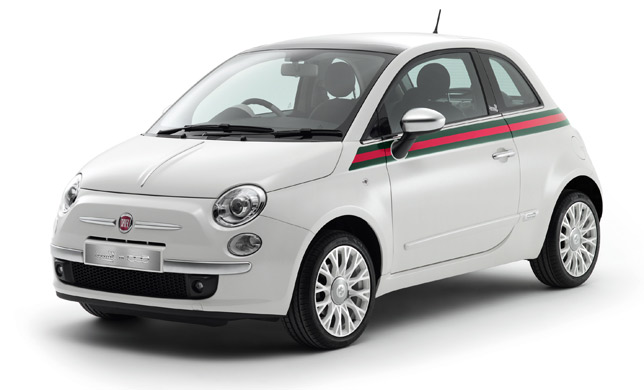 Opening the doors of the Fiat 500 by Gucci, a logical connection between the outer and the cabin styling immediately appears, as all the seats, the shift, the key-cover, the carpets and the seatbelts highlight the same green-red-green stripe on the exterior. Moreover, the interior boasts chic embroidery, exclusive materials, glossy and satin chromes, velvety varnish on the radioboard and two-toned seats in Frau Leather with Guccissima print.
The Fiat 500 by Gucci is price tagged at 17,000 Euro and the pre-orders start online at www.500bygucci.com from April 1st to June 30th.