2013 Fiat 500 and 500c by Gucci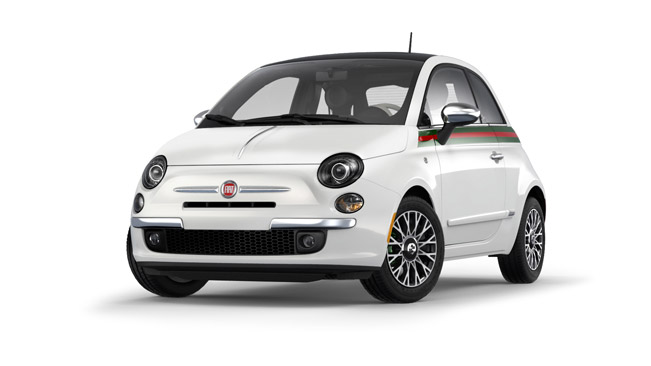 2013 Fiat 500 and 500c by Gucci represent the perfect example of the combination between Italian craftsmanship and style. In addition, one can find all this exclusiveness in a small and compact car. Of course, the models will be produced in a limited edition run and will deliver their customers discrete appearance inside and out.
As a matter of fact, this is the fastest-selling Fiat 500 on the US market now and this success is a pure instance that the customers appreciate high-quality small vehicles which can offer craftsmanship, technology and the style.
These Gucci Edition models offer for the 2013 model year a new Nero monotone interior environment. On one hand it can complements Gucci Nero exterior or make the perfect contrast to the Gucci Bianco glossy pearl-glass exterior paint and the Gloss Nero lighting bezels.
The new interior is nothing less than stylish and at the same time extremely functional. One can see chic embroidery, exclusive materials, bright (with Gucci Nero) and satin (with Gucci Bianco) chrome accents, velvety varnish on the instrument panel and seats wrapped in Poltrona Frau leather with signature "Guccissima". In addition, there are also Premium Nero leather accents that can be seen inside, and particularly found on the door panels and on the hand-stitched leather-wrapped steering wheel.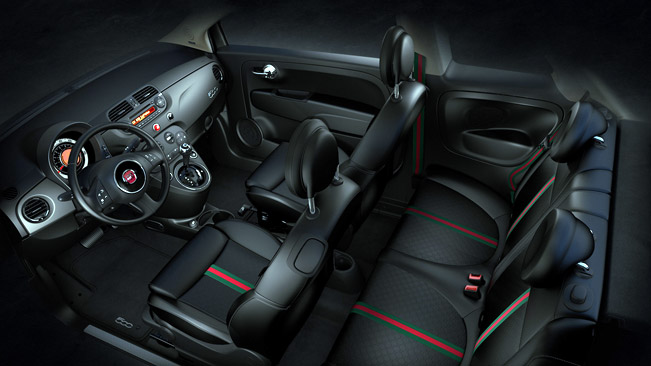 For those who are keen on two-tone interior, the models reintroduce the original two interior color schemes. To be more precise, tied to the Gucci Nero exterior color is an interior detailed with Bianco/Nero seating and accents, while the Gucci Bianco exterior color features the reciprocal Nero/Bianco theme.
How about the exterior changes featured in this year's models. First of all they include several exclusive design elements which refer to Cinquecento's iconic style. A signature Gucci Verde/Rosso/Verde web stripe runs along the entire bodyside perimeter or across the length of the power-retractable cloth top on the Fiat 500c by Gucci model.
Next, a chrome cursive "Gucci" completes the door frames and hatchback. It also complements the bright (Gucci Nero) or satin (Gucci Bianco) chrome-accented exterior mirrors, door handles and hood spear.
The vehicles also include sculpted fenders which offer one-of-a-kind design, retro-inspired 15-inch aluminum wheels color-keyed to the Gucci Nero or Gucci Bianco exterior pain, wheels' center caps with interlocking "GG" hubcaps and brake pads lacquered in signature Gucci Verde.
2013 Fiat 500 by Gucci Edition has a starting price of $23 750, while the price tag of 2013 Fiat 500c by Gucci Edition starts at $27 750.
Source: Fiat