First full-LED headlamp for the Audi R8
Ingolstadt – Effective immediately, the range of equipment available for the Audi R8 sports car now also includes the first full-LED headlamp. In addition to the daytime running light which now features 24 LEDs per headlamp, light-emitting diodes are also used for the turn signals, the low-beam and the high-beam headlights. The €3,590 option rounds out the list of equipment available for the high-tech, mid-engine sports car.
The earlier launch of LED technology at the front of the car required a waiver by the European Union. The prominent advantages are lower energy consumption and a color that more closely resembles daylight, provides greater contrast and is easier on the human eye. LEDs are also non-wearing, require a lower voltage, are compact and offer greater design freedom.
The new full-LED headlamp represents the pinnacle of Audi's lighting strategy. The use of LEDs already enjoys a long tradition. This innovative technology has previously been used in production vehicles for tail light functions, brake lights and daytime running lights. Since early 2003, Audi has also used the semiconductor technology in a number of concept cars to implement some or all of the lighting functions at the front of the car.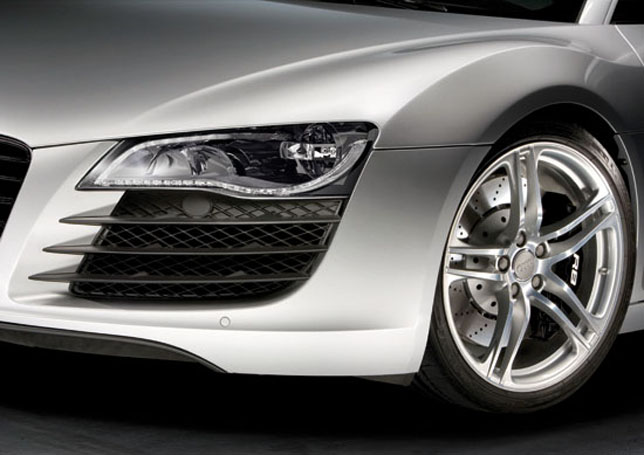 The brand with the four rings first introduced a strip-shaped fog lamp at the Detroit Auto Show in 2003. That same year, the Audi Nuvolari quattro showing the first full-LED headlamp was a highlight of the Geneva Auto Show. And the Le Mans quattro – a legitimate predecessor to the Audi R8 – illuminated the Frankfurt night with LEDs on the eve of the 2003 Frankfurt Auto Show.
Additional concept cars and many refinements to the light source and headlamp geometry followed. This technological highlight is now available as an option for the Audi R8, where it joins other very well-known high-tech components such as the aluminum Audi Space Frame, ceramic brakes and the mid-mounted V8 engine with FSI technology.