First official video of the new Fiat 500L released
The first official video of the new 2012 Fiat 500L has just been released as a preparation of its world debut – tomorrow at the 2012 Geneva Motor Show. In the name of the vehicle L stands for "Large" and of course 500 signifies that the car is part of the Fiat 500 range. The model shows a 500 version which is bigger in size and can accommodate new experiences and needs. For example, the new 2012 Fiat 500L is the first car of the range which is perfect for the family. In addition, the 500L expresses all of the taste of Italian style with a distinctive and catchy look and interprets the totally Fiat capability of conceiving and designing cars which are innovative in substance and in form. What distinguishes this model from the others is that it is "space-efficient". Furthermore, the vehicle is designed by the Centro Stile Fiat, which drew inspiration from the modern reinterpretation of a car concept designed to achieve better external visibility and a large amount of internal light. This is achieved thank to the glass roof, which is the largest in its category. What is record braking for the segment here is that the model has a colour range of 30 body colours. The spaciousness of the interior offers lots of levels of comfort and it is the best in its category in relation to the external dimensions - 414 cm long, 178 cm wide and 166 cm high. In addition, there is a boot with a capacity of almost 400 litres that is able to hold up to 5 roller suitcases or a full-size push chair.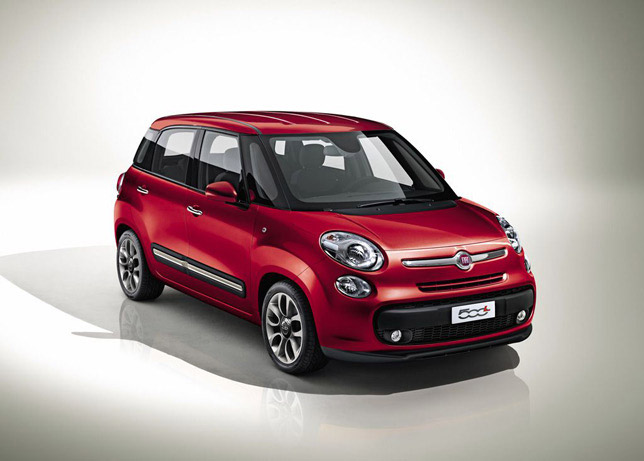 The new 2012 Fiat 500L will be launched on the European market in the last quarter of 2012. It will include an engine range of two petrol engines (TwinAir and 1.4-litre) and a turbodiesel engine (1.3 MultiJet II). Standing out amongst the petrol engines is the new 0.9-litre TwinAir, which is a new developmental result of the multi-award-winning Fiat two-cylinder engine, which in turn is famous with setting the world fuel consumption and emissions record thanks to its low displacement and inclusion of a high-efficiency turbocharger.
Loading the player...
Source: FIAT