First Sale of Kangoo Van Z.E. in UK
Renault UK has made its first sale of the Kangoo Van Z.E at the Milton Keynes dealership "Marshall Renault". Patrick Chard, Managing Director of Murrays the Printers, based in Alston Drive, Milton Keynes, was the lucky customer in question. He has bought the fully electric van for commercial purposes and is enthusiastic about putting it to work:
"It is fantastic, very exciting to be first. We made a conscious decision a couple of years ago to be as green as possible, from vehicles to printing presses and with everything we buy. The Kangoo Van Z.E. is the first electric van to market from a manufacturer and it ticks every box for us. It is great for our customers too, as they are also concerned about the environment. We can now deliver locally with zero emissions and make considerable savings on fuel costs over a period of time." said Patrick Chard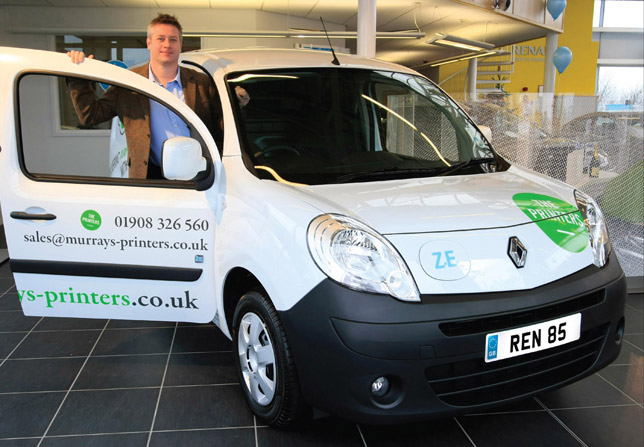 The purchase itself was a small event complete with champagne and gifts to mark the first ever sale in the UK of the award-winning van. Ian Plummer, Director of Commercial Operations Renault UK also attended the handing over of the keys and was happy to note that Renault is now on its way to fulfilling its environmental commitment. Presumably this sale will be a first of many as several other companies are now interested in generating a fleet of Z.E. Vans. There are currently 20 more showrooms who hope to strike similar deals as they too have invested in showcasing the Z.E.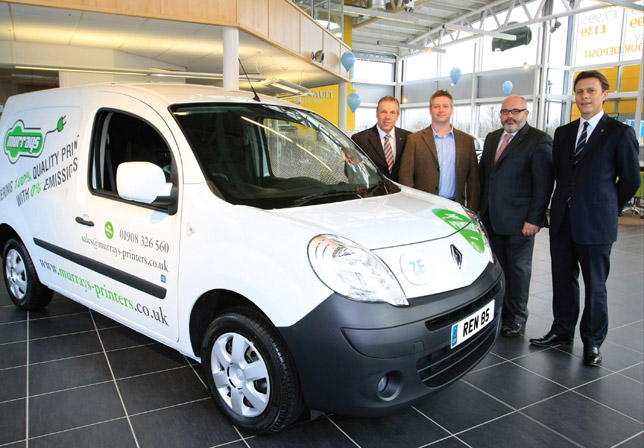 The Kangoo Van Z.E. prices start at 16 900 GBP (VAT not included) and a monthly battery hire from 60 GBP (6,000 miles per year, over three years). Contract hire is also available from 424 GBP per month over three years. Both include a five-year powertrain guarantee, three years roadside assistance and a three year or 100,000 mile warranty. On average, the range of the Kangoo is around 106 miles on a single charge but that can drop to 50 miles or go as high as 125 miles depending on certain conditions. It is estimated however, that a single charge costs at around 3 GPB which are added to your electrical bill (naturally at night the charging is cheaper).
Source: Renault