Renault Concentrate on its Environmental Prowess for the Goodwood Festival of Speed 2009
With final preparations for its free 110,000-spectator World Series motorsport celebration this weekend (4th and 5th July) at Silverstone well under way, one hundred and twenty miles south, Renault is focussing on the Goodwood Festival of Speed, held the same weekend.
Renault's illustrious motorsport heritage has been regularly demonstrated at Goodwood since the mid-90s, so this year the French marque will concentrate on its environmental and technological prowess. The two most recent Renault concept cars, offering low or no emissions, plus a pristine 1959 electric Dauphine are all set to bask in the Sussex sunshine and delight the crowds.
Concept cars take to the hill
As part of its global Alliance with Nissan, Renault has already said it aims to be the mass-market leader for zero-emission vehicles. To underline this in the lead-up to its first production electric vehicle in 2011, Renault's two concept cars, Ondelios and Kangoo Z.E. (Zero Emission), which wowed the Paris Motor Show last autumn, will take pride of place in Goodwood's 'FoS–TECH' pavilion. Away from the somewhat cooler, shaded sanctuary of the pavilion, the two concept cars will also be seen in action each day of the Festival as they tackle the famous Goodwood Hillclimb in a series of demonstration drives.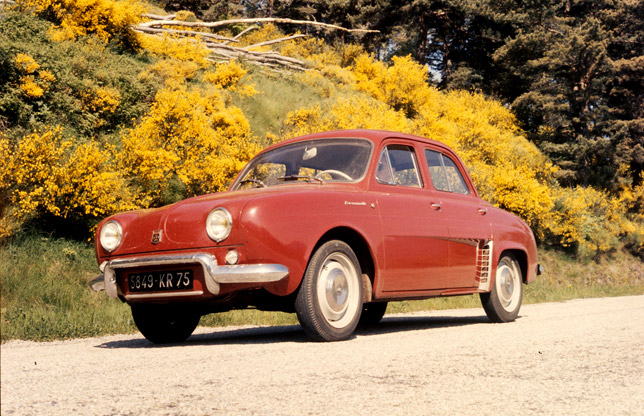 Electric vehicles have been around since the dawn of motoring, albeit in limited numbers, and Renault will exhibit a 50-year-old electric Dauphine. Adapted in 1959 by the Henney Motor Company in North America, it is just one of a few survivors of the 100 produced over a two-year period.
A far cry from today's electric vehicles, each model initially ran on a 36V system of 18 sequential 2V batteries, with a modest top speed of 40 mph and a range of 40 miles on a single charge. The five-seater tipped the scales at 1,022 kg and featured a three-speed transmission with rear-wheel drive.
In 1960, upgraded 72V models were produced, offering an extended range of over 60 miles and capable of delivering a heady top speed of almost 60 mph.
Moving a little closer to the present day, Renault will exhibit two concept cars on loan from the company's 'Histoire et Collection' division, which retains a version of every Renault produced since 1898.
Kangoo Z.E. Concept
The first of the two environmentally-sensitive concepts, Kangoo Z.E., previews the latest prototype which is currently undergoing media testing.
Sure to appeal to Goodwood's 150,000-strong knowledgeable crowd with its acid-green windows and roof-housed solar panels, the outlandish Z. E. Concept showcases a series of other innovations, such as heat-reflective paint, insulated bodywork and lithium-ion batteries.
Powered by a 70kW electric motor with torque of 226Nm, the three-door concept car focuses on optimising energy management. Among the car's key features are streamlined, low-energy cameras powered by the roof-mounted solar panels as well as low-drag disc alloy wheels to aid aerodynamic performance. It also uses high-performance light-emitting diodes (LEDs) and houses an electric scooter in the boot for when two wheels are more conducive to urban transport than four.
Ondelios head-turner
Renault's second concept at Goodwood is the attention-grabbing crossover, Ondelios. With its gullwing doors and impressive 23-inch alloys, the 4.8-metre long creation will certainly turn a few heads.
Among the technological feats of the visionary luxury car are its hybrid powerplant which combines a 205hp 2.0 dCi engine with two 20kW electric motors at the front and rear, together with fuel-saving stop-start and regenerative brake and boost systems.
Even Ondelios' Michelin tyres offer impressive aerodynamic performance through sleek sidewalls and 'active flow' tread channels, while some of the car's structural parts are made from natural flax fibre for greater recyclability.