2012 Focus Focus ST-R
As the all-new Focus ST road car makes its global production debut, Ford is giving a European welcome at the Frankfurt Motor Show to a special motorsport counterpart – the race-tweaked, production-based Focus ST-R.
Despite its close resemblance to the Focus ST road car, the Focus ST-R is purpose-built for the track by Ford Racing in North America as a fully-prepared competition car. It features a powerful 2.0-litre EcoBoost engine, FIA regulation roll cage, uprated brakes and track-tuned suspension.
It will be available to teams soon, starting in North America, to race in a variety of series.
The all-new Focus ST-R has been crafted by engineers at Ford Racing – with technical support from Ford's Global Performance Vehicles group – to allow it to compete in a huge variety of series, including Grand-Am ST, World Challenge TC and Canadian Touring Car Series. Ford also hopes teams will race the car in key European motorsport series and major national events such as the 24 Hours of Nürburgring.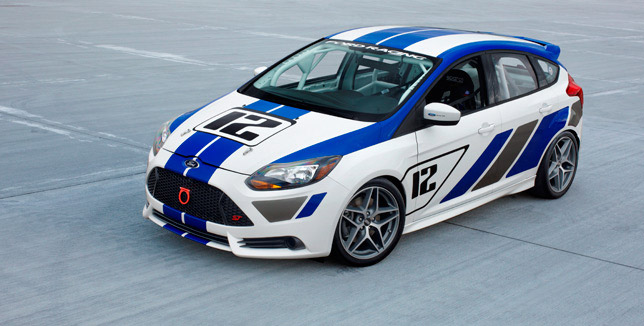 Its linkage to the new Focus ST road car is no accident.
"From the beginning, the Focus and new Focus ST were designed to be driver's cars," saidJost Capito, director of Global Performance Vehicles and Motorsport Business Development."The road-going Focus features best-in-class brakes, handling and powertrains and thedesign and functionality of the various vehicle systems have helped us to develop a global technical specification for teams wanting to race the new Focus cost effectively. Ford Racing in North America has taken this effort and developed the new Focus ST-R and is a perfect example of how a great production car inspires a competitive race car for enthusiasts."
Initially homologated for American and Canadian touring car racing, Focus ST-R will be available to order from Ford dealers in North America by seasoned hardcore professional drivers, amateur racers and track day enthusiasts as well.  Ford's vision is to broaden availability to additional regions in the future.
"We're thrilled to be taking the Focus ST-R from concept to reality for motorsport enthusiasts initially in North America and potentially around the world," said Jamie Allison, director, Ford Racing.  "The previous turn-key race cars we developed for North American racing have been hugely successful, so we are hopeful that the ST-R will be the first such vehicle for global series and as a direct result of the company's global platform strategy and our technical support program for motorsport applications of Focus and Fiesta models.
"This is a competitive turn key race car that will allow our customers to compete successfully in multiple series around the world with minor modifications.  And it shows the on-going alignment of Ford Racing with our Performance Vehicles development group."
"Because the Focus ST-R is a production-based road race car, it features stock body panels and production parts where possible," added Allison. "People who buy one will get will get a fully prepared race car that will only need communications equipment and the customer's decals to go racing. We've already had significant interest in this vehicle from numerous established race teams."
Source: Ford