Take a Look at this Mercedes-Benz A45 AMG by Folien Experte! It is 435HP Strong

Mercedes-Benz A45 AMG by Folien Experte not only looks good but it's more potent than ever. This car has received a beautiful modification for its exterior by the simple addition of… foil. The special color of the wrap-material gives the Mercedes a sense of aristocratism and posture. In addition, the A45 AMG also features engine boost, which we will discuss a little bit later. Better chassis and new wheels are also a prerequisite.
Wrapping Makes Miracles
It literally does. The specialists at Folien Experte wrapped this AMG tuned A-class with high quality matt chrome red foil. The result is stunning and to make sure of that you just need to look at the pictures in the gallery below.
SEE ALSO: Mercedes-Benz A-Class Facelift Sets Hope and Expectations High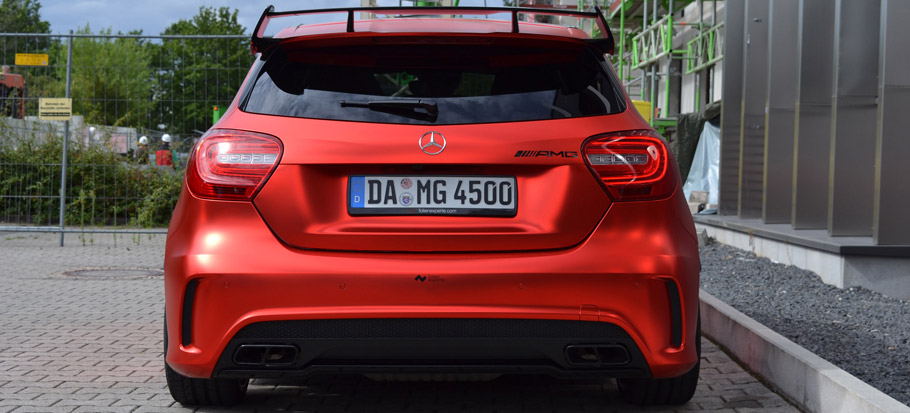 But the work on the car did not end here. The chassis optimization was made by means of 3 KW-coilover suspension and a great wheel & tire combination. Brabus Monoblock F alloys in 8,5x19-inch size were fitted with Pirelli P-Zero tires in the dimension of 235/35R19.
Tweaked Engine
Improved performance is attributed to the experts at PP-Performance. They have done many things for the A45 AMG among which are the chip tuning, race filters, Catless kit and sports exhaust system. As a result, the serial 360 hp (265 kW) have been boosted up to the merciless 435 hp (320 kW). And that's what we call a pretty nice way to round out a tuning!
Source: Folien Experte via Miranda Media