This Mercedes-AMG A45 makes it to 100 km/h in just 3.5 seconds! We thank POSAIDON for that

POSAIDON A45 RS485+ is a true 315 km/h sportscar hunter!
As Mercedes-Benz A-Class driver, I'm always hyped when a tuner goes for this model. This time the heroes in my eyes are the experts at POSAIDON, which has given their best to modify the hottest among hatchbacks – the Mercedes-AMG A45 is the hottest of the hot hatchbacks.
Besides the beautiful looks, the car is the most powerful among its range: its original output is measured at 360 hp (235 kW) that were increased to 381 hp (280 kW) via last year's facelift. What's making the driving experience even more exciting is the relatively modest weight of the A45, the intelligent all-wheel system and the exhilarating 7-speed DCT. Potent, right?
SEE ALSO: Mercedes-AMG E63 better than Bugatti and LaFerrari?
Well, on this fantastic basis are working the tuning specialists at POSAIDON, who have improved the sleeping potential of this hatch. Lo and behold, the A45 RS485+ was born! And by the way, this is the most potent interpretation of AMG A45 so far!
The goal was to produce nothing less than 500 hp. So, to achieve this, the first thing POSAIDON did was substitute the standard turbocharger with a racing one. The latter features bespoke larger turbine. Added to the impeller wheels and gas-flowed scroll housing, this is allowing the unit to process the required amount of air and to use a higher boost pressure.
The next step was to scrutinize the air intake system to ensure that the big turbo gets as much air as it needs. Then low restriction air filter and high efficiency intercooler were too mounted.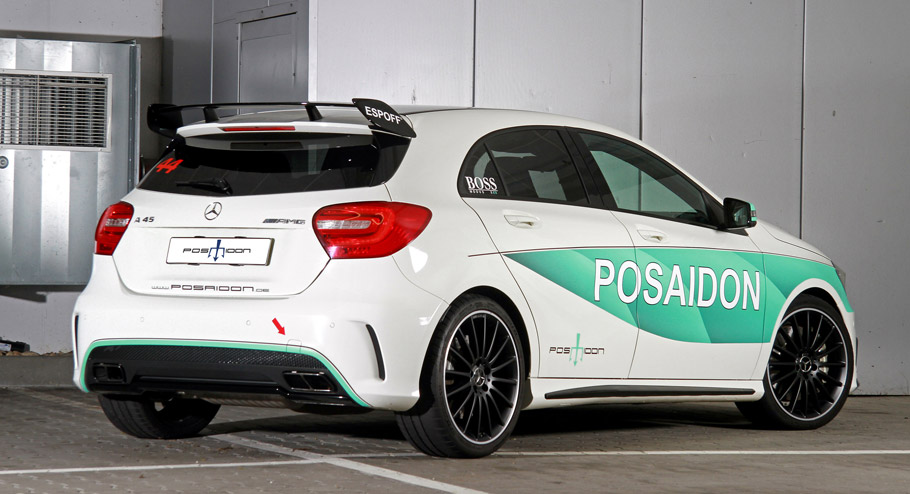 Step three was to improve the other side of the engine, namely – the exhaust. This happened with the means of optimized, larger diameter, stainless steel downpipe with the option of a free-flow, 200-cell catalytic converter. Everything else in the exhaust stays unchanged. The result is reduced exhaust gas temperatures and thermal stress on the engine and cooling system. At last, POSAIDON remapped the engine and transmission software, in order to make full advantage of the hardware upgrades.
What happened at the dyno tests? Besides the aimed 500 hp, the car showed capability of 555 Nm (404 lb-ft) of torque. The top speed is electronically limited to 315 km/h, meaning it can go far beyond this. The stopwatch? Well, it recorder something remarkable: 0-100 km/h sprint in just 3.5 seconds!
To tame this extra power, POSAIDON also tuned the uprated front brake kit with the addition of 365x34 mm vented steel discs, clamped by six-pot callipers. Steel brake hoses contribute for a firmer and better pedal feel.
I would love driving this beautiful piece of art. How about you?
Source: POSAIDON