Mercedes-AMG Celebrates F1 with A45 4MATIC Champions Edition

Mercedes-AMG A45 4MATIC Champions Edition is a very special vehicle, which celebrates the victory in the constructors' world championship as well as the drivers' championship included in the motorsport's champion's league this year. It actually marks the end of the season and this is why it blends the expressive Formula 1 look of the victorious Silver Arrows with extensive and abundant equipment.
It was actually very strange for me to grasp how Mercedes-AMG could do something like that. Precisely, I mean that it was the least model that I have expected to get a Champions Edition. However, it looks very cool and has (fortunately) nothing to do with the A-Class models from the early 2000.
SEE ALSO: CHROMETEC Offers Visual and Functional Upgrade for Mercedes AMG GT 
The new version of the A-Class is probably the most compact performance athlete in the world. With its maximum output of 381 hp (280 kW) and its standard AMG Performance all-wheel drive and the front axle differential lock, the special edition is capable of accelerating from 0 to 100 km/h in 4.2 seconds.
PETRONAS Inspired Exterior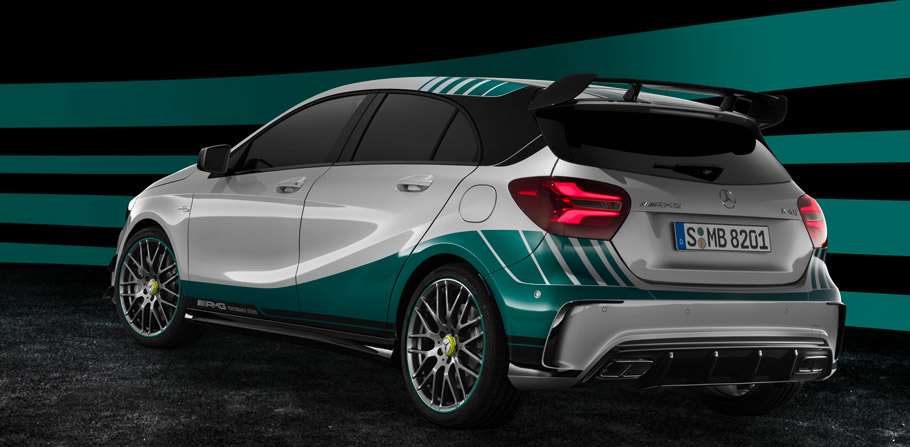 So, as you can see, this A45 4MATIC runs on very large wheels, sized 19‑inch, painted in titanium grey and accentuated with a petrol green rim. The exterior of the car also features the one-off foiling of the MERCEDES AMG PETRONAS 2015 World Champion Edition. This means that every owner will literally take a part of the Formula 1 success from the race track to the road.
In details, the foiling includes the iconic petrol green and black highlights of the design of the winning F1 W06 HYBRID super model. In addition, the Champions Edition also received a streamlining package. At the front it includes a larger splitter and special flics, while the rear was enhanced with an extra roof spoiler. There are three paintworks available for this edition and they include mountain grey metallic, designo mountain grey magno and polar silver metallic.
Other equipment features include Night package, the AMG Performance seats, the AMG Exclusive package and the AMG DYNAMIC PLUS package.
Interior Inspired by Motorsport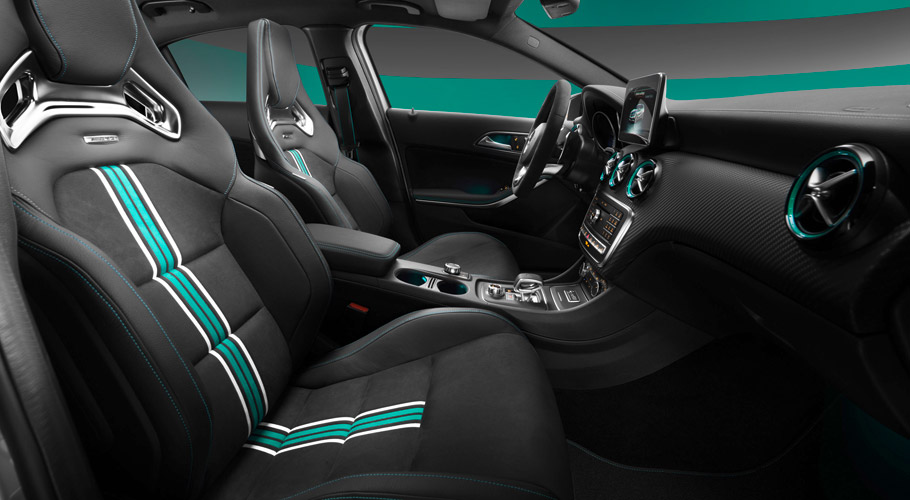 The cabin is too inspired by motorsport. Some of the very cool features here are the quality badge on the lid of the stowage compartment with the official lettering of the MERCEDES AMG PETRONAS Formula One Team, the electronically adjustable Performance sports seats in leather/DINAMICA microfibre and contrasted with fine petrol green topstitching on the armrests and dashboard, the petrol green rings in the air vents plus the seat belts, and the petrol green highlight strips.
Mercedes-AMG A45 4MATIC Champions Edition will make a global debut at the Abu Dhabi Grand Prix in Yas Marina on 26 November. It will be available from January till May with a starting price of 65,402.40 euros. And I find it entirely worth this amount.
Source: Mercedes-AMG