Ford Apollo Edition Mustang Will Help Youngsters To Live Their Dreams

Ford Motor Company, for the eight straight year created one of a kind, aviation-inspired Ford Mustang vehicle to help the Experimental Aircraft Association youth education programs, that also include the Young Eagles. The vehicle is called Apollo Edition Mustang (you didn't expect that, did you?) and will be sold via auction at the Gathering of Eagles charity event on July 23. And the collected sum will be invested in EAA youth education programs, that since 1992 provided free flights for almost 2 million young people.  This means, that about 2 million people were living their own dreams of flying. How cool is that?
Ford Apollo Edition Mustang and why it is so interesting
Now, let's check out the vehicle itself. It is based on the 2015 fastback Ford Mustang GT and the engineering restyled it in such way, that the Apollo Edition Mustang really stands out from the crowd with its distinctive looks and features.
SEE ALSO: Ford EcoSport Lineup Improved!
The exterior comes with one-of-a-kind glossy white and black body finish scheme, that reminds for NASA Apollo program in incredibly artistic way. Furthermore, the Apollo Edition Mustang includes numerous carbon fiber components, like the front splitter, rear diffuser, rocker moldings and other. And the especially designed LED lights really bring that interesting and one-of-a-kind appearance.

But this is not all. Ford Motor Company also offers and enhanced performance package, that includes Ford Performance supercharger and shifter, X-pipe with side and rear exhaust, especially tuned suspension system for sporty character, Brembo brakes and custom made Forgiato 21-inch performance wheels. Badass to the bones, right? But the most interesting part is the engine. The monstrous Apollo Mustang comes with the crushing 627 hp (461 kW) power output and 540 lb.-ft. of torque. I wonder, if the future owner has the guts to push this beast to its limits.
The interior on the other side comes with exclusive details, gadgets and components, that make you feel like you are in a sort of comfortable spaceship. In fact, I will not be surprised if this machine can fly.
The Apollo Edition Mustang will join seven other unique Mustang vehicles, especially created by Ford engineers for the auction campaign of EAA Youth Education. The other vehicles, that will also be demonstrated at the event are indeed:
2008  Mustang AV8R, influenced by F-22
2009 AV-X10 "Dearborn Doll" Mustang, crafted in honor of the World War II aircraft
2010 SR-71 Blackbird Mustang inspired by legendary reconnaissance jet
2011 – Blue Angels Mustang, created to celebrate 100 years of U.S. naval aviation
2012 – Red Tails Mustang, to pay homage to Tuskegee Airmen – courageous squadron of P-51 Mustang pilots who were the United States' first African American military airmen
 2013 – U.S. Air Force Thunderbirds Edition Mustang, built to celebrate the 60th anniversary of the U.S. Air Force Thunderbirds demonstration team
2014 – F-35 Lightning Edition II Mustang, which featured design cues from the world's most advanced multirole fighter jet – the F-35 Lightning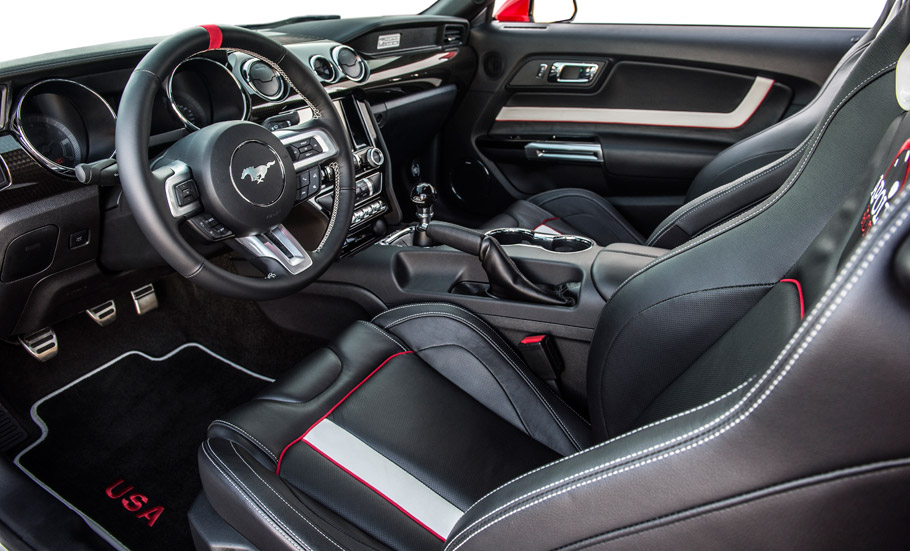 It will be one hell of a show, I bet that. We will keep you in touch, so stay with us for further details!
Source: Ford