Ford EcoSport Lineup Improved!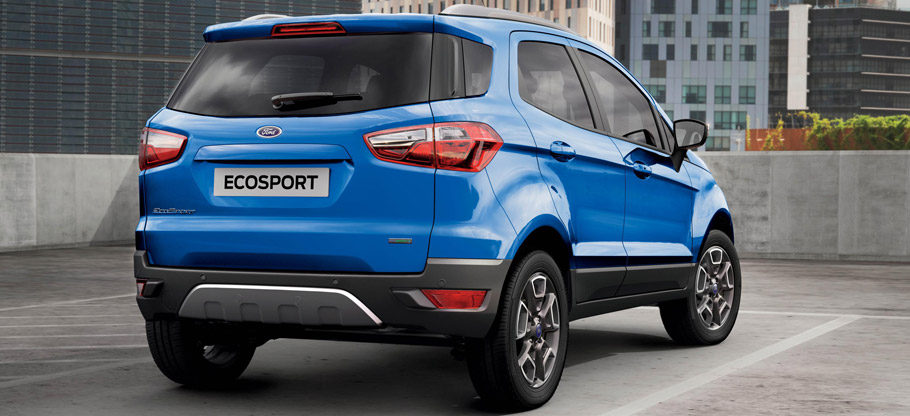 2015 Ford EcoSport SUV comes with numerous improvements, that include style upgrades, improved driving dynamics and many more. The leather seats and chrome details are also available with the standard equipment. And as we talk about equipment, Ford now offers a special Winder Pack (just when the Summer season starts. Good one, Ford). It includes heated windscreen, heated mirrors and heated front seats. There are also some fine tunings, made to the springs, dampers, rear torsion beam, Electronic Stability Programme and Electronic Power Assisted Steering settings.
Ford EcoSport Lineup
So, the Ford EcoSport will also be offered without rear-mounted spare wheel, but instead will come with mobility kit. And another changes have been made t the rear swift gate. Now it allows easier access to the bootspace. Furthermore, all models include and a sweet EcoSport badge on the rear.
Interior
As said above, leather seats are included, but only to the Titanium models. Furthermore, the interior awaits you with privacy glass with all trims, while the Winter Pack adds and rear seat ventilation. The restyled cabin also offers black lower instrument panel, centre console and door boards. The instrument cluster also includes a light dimming function and chrome-surround rings.
SEE ALSO: Ford EcoSport with Exclusive European Premiere
Drivetrain system
The EcoSport vehicles are now available with 1.5-liter TDCi, that offers 95 hp (69 kW) and delivers 64.2 mpg. The next variant is a 125 hp (91 kW) 1.0-liter EcoBoost unit, that delivers 52 mpg. The last engine offers 1.5-liters and also 125 hp with 44 mpg.
Furthermore, additional technology tweaks come later this year and will include satellite navigation and Rear View Camera, that helps with the reverse maneuvers. You can see for yourself, that Ford's growing SUV family has a lot to offer and it gets even bigger and more confident.
Source: Ford