Ford C-MAX Energi plug-in and C-MAX Hybrid to Freshen Up the Market
Ford has announced that two new, super economy MAVs (Multi Activity Vehicles) are set to go on sale during the second half of 2012: So welcome to the C-MAX Energi (spelled correctly) plug-in hybrid and the C-MAX Hybrid. They are both expected to trash their counterparts in terms of economy – The Toyota Prius plug in hybrid  and the Toyota Prius v respectively
It is not so much of a surprise that this is the next phase of the company's plan to target more  fuel-efficiency-minded customers. Here is what Amy Machesney, the C-MAX Hybrid and C-MAX Energi Marketing manager had to say:
"The C-MAX Hybrid and C-MAX Energi are designed to meet the needs of customers looking to 'plus-up' and optimize their hybrid car experience. These customers are living more environmentally responsible lives and may have bought a hybrid in the past. They are now ready for more hybrid choice, combined with style, better performance and additional versatility."
See, Ford's goal for 2012 is to have a third of it's whole lineup to consist of 40 mpg and above capable vehicles. For that to happen they need to triple production capacity of its electrified vehicle range. In North America, the C-MAX Energi and Hybrid will be only two out of five scheduled electrified debuts.
With many years of experience behind, Ford is not banging rocks together here. They have around 500 patents all relating to hybrid technology and hundreds more waiting in line. They have an abundant  stock of data gathered from their Ford Espace plug-in hybrid test fleet. The software and hardware which represent the C-MAX nervous system has had more than 20 years of research and innovation.   Everything is done in-house to ensure a perfect, synchronized efficiency system. And now the vessels of that technology are the C-MAX platforms which have been a major success on the European market since their launch in 2010 with over 100 000 units sold. Even the place where they will be making them is a high-tech utopia – Ford's assembly plant in Wayne, Michigan which is partially powered by the state's larges solar system.
The C-MAX Hybrid should hit better urban and extra urban mpg than its equivalent, the Toyota Prius v. while the C-MAX Plug-in hybrid will have a driving range of more than 500 miles, more than the Toyota Prius plug-in hybrid or Chevrolet Volt. And it is also claimed that the driving experience will remain exciting.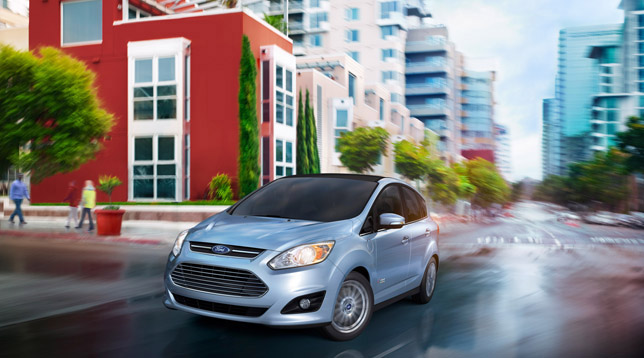 "With C-MAX, you get road-holding capability, sportiness and performance in addition to leading fuel economy, great versatility, great features and great technology in a package designed to exceed customer expectations." says John Davis, C-MAX chief nameplate engineer. If all that turns out to be true, no doubt that Ford will skyrocket to the leading position of the fuel economy race.
So what wizardry will they employ to achieve this? As expected from hybrids, the power for both of the C-MAX MAVs comes  from a combination of a petrol engine and an electric motor. The gasoline unit is an already efficient yet powerful 2.0-liter Atkinson-cycle four-cylinder engine. It is one of Ford's cleverest naturally aspirated engines ever. The electric motor is powered by lithium-ion (Li-ion) battery packs which can be up to 50 percent lighter and 30 percent smaller than the nickel-metal-hydride (NiMH) ones used in previous generation hybrids.
The C-MAX hybrids utilize Ford's next generation powersplit system which allows the engine and the motor to work separately or at the same time. Alternatively, the petrol unit can be left to idle independently in order to charge the driving electric motor. Under proper conditions (light load, low speeds), the electric motor alone will be capable to bring power to the wheels.
The C-MAX Hybrid's battery pack can be recharged while the engine is running and while braking. 95% of the energy, that is usually wasted upon braking, is now channeled towards the battery and hence the difference between the Hybrid and the Energi plug-in. The Energi needs charging in a standard 120-volt outlet or at a 240-volt charging station.
All that technology needs to be converted in figures for the driver to see. This is where gadgets like SYNC® and MyFord Touch® com into place. It is a complex interface system that allows the smooth and efficient operation of things such as climate control, navigation, the entertainment system. It is all very accessible too as the driver can manage all that with voice commands as well as controls on the steering wheel and touch screens and buttons and knobs etc. To further inform abut the mode of driving and economy there is the thing called SmartGauge® which employes EcoGuide – a thingamajig on the dashboard that offers instant fuel economy while there are also indications about average economy. Efficient braking advisory system called Brake Coach helps you optimize the use of the regenerative units by braking as efficiently as possible. In the C-MAX Energi you can even utilize your smartphone or your computer which will then tell you all kinds of information about the remaining charge and distance so you never run out of juice prematurely. Then there's the standard stuff like active park assist, start button and AM/FM/CD/MP3 Sony® Audio, HD Radio™.
The appeal grows even more as we keep mind that the C-MAXes are practical as well. We get loads of space inside (slightly less in the C-MAX Energi), an overall height of 64 inches for each vehicle so that good for headroom, and seating for five including the split, fold-flat second-row seat. Access to the cargo area is made easy because of an innovative hands-free liftgate. All you need is a key fob to be somewhere near the car (ideally your pocket) so that the cars knows it is okay to open and than a gentle kick under the rear bumper will trigger the door.
Let us not forget to mention that safety has also been addressed with numerous features that come as standard. Seven airbags and a direct line with 911 emergency services vie the SYNC 911 Assist™
program can be very handy in an accident. Should you lend your car to your rebellious teenage kid but worry about speeding. Well worry no more because the MyKey® system allows parents to set a speed limit and restrict radio stations with explicit content. There is also a constant nag system that can tell if someone in the car is not wearing a seat belt. What comes as standard also are the Curve Control, that is designed to slow the vehicle when it's cornering too fast, the Torque Vectoring Control, which helps accelerate through a turn when necessary. AdvanceTrac® with Roll Stability Control™ (RSC) and electric power-assisted steering (EPAS) are also included.
Source: Ford