2017 Ford F-150 gets 10-speed automatic for better torque results

Ford adds second-gen 3.5-liter EcoBoost and 10-speed automatic to the options list
2017 Ford F-150 goes on sale this fall. The leader in the truck segment will amaze its new customers with the various innovations and exceptional torque delivery. By the way, the newest variant of the F-150 is going to offer segment-leading torque, thanks to the new 3.5-liter EcoBoost V6 engine under its hood. The other substantial reason for the enhanced torque rating is the addition of the 10-speed automatic transmission.
In its second generation, the 3.5-liter EcoBoost unit generates an extra of almost 70 Newton meters or 50 lb.-ft. of peak torque, if compared with the first-generation engine. The result is a total of 637 Nm (470 lb-ft). This number is of significance, because it beats all diesel- and gasoline-powered competitors, including some of the V8 engines on the market. What is more, the horses have been also improved and now they are 375 hp, which is an addition of 10 hp.
SEE ALSO: 2017 Ford Raptor gets a neat set of BFGoodrich tires. The result? Check for yourself! [w/video]
To make the engine more capable of its new torque, Ford engineers have developed an exclusive 10-speed automatic transmission, which debuts on the 2017 F-150. Unfortunately, it comes at an extra cost, because Ford didn't seem to wish to make it standard.
However, in this combination, the powertrain delivers better acceleration and performance, better low-end and peak engine performance, as well as more capability when it comes to hauling heavy payloads and towing heavy trailers.
Obviously, Ford has taken advantage of the strong sides of 2.7-liter EcoBoost engine and first-generation 3.5-liter EcoBoost, and has developed something exceptional. We do wait impatiently for the first customer's reviews though.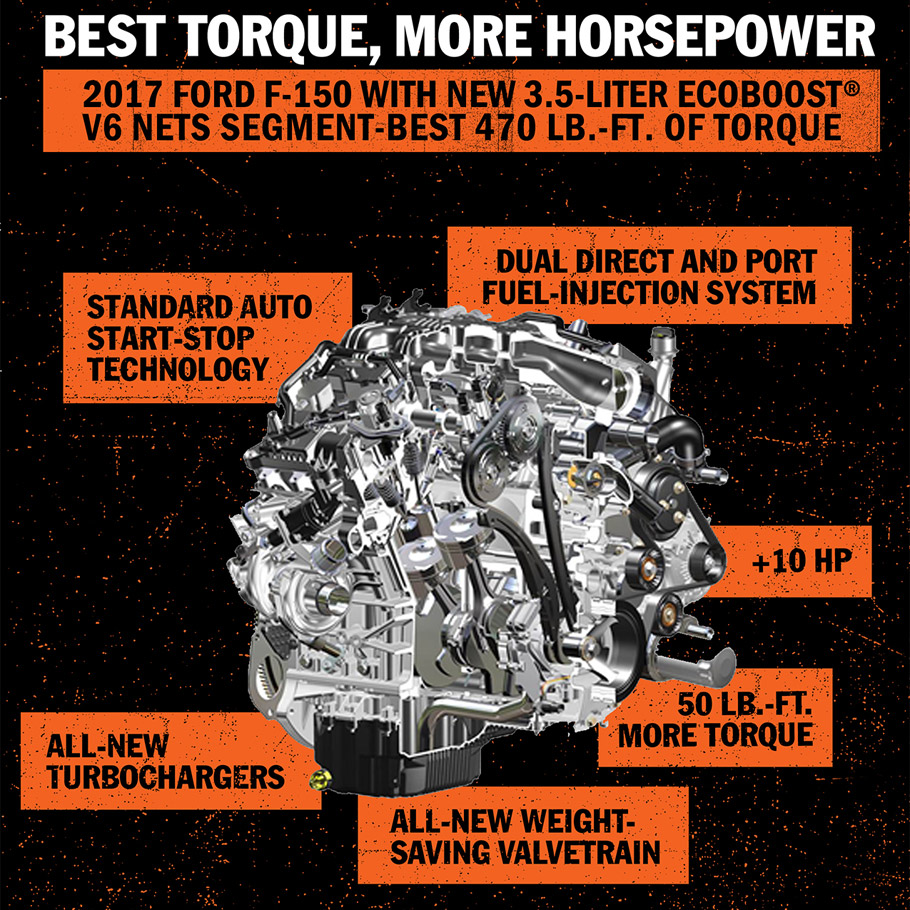 Source: Ford