Ford and Xbox One Release F-150 Halo Sandcat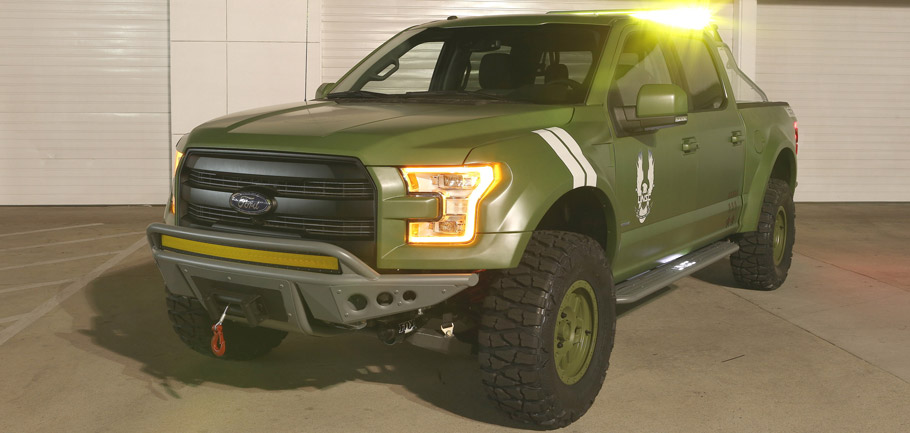 Ford F-150 Halo Sandcat is one-off vehicle which celebrates the release of Halo 5: Guardians. This is an Xbox One game, but the truck isn't only a virtual concept. To make this project happen, Ford teamed up with Xbox, 343 Industries and Galpin Auto Sports (GAS). The special version of the 2015 Ford F-150 looks so awesome, that it could have been designed by the Master Chief himself, doesn't it?
Design Inspired by Halo's United Nations Space Command Vehicle
The unique vehicle is based on the Ford F-150 Lariat SuperCrew 4x4. Under the hood, it is powered by 3.5-liter EcoBoost engine, producing 365 horsepower (268 kW) and 420 Nm (310 lb-ft). The vehicle is also equipped with FX4 off-road package.
SEE ALSO: Is 2017 Ford F-150 Raptor the Ultimate Performance Truck? [VIDEO]
The design F-150 Halo Sandcat is inspired by Halo's United Nations Space Command machines and their military outfit.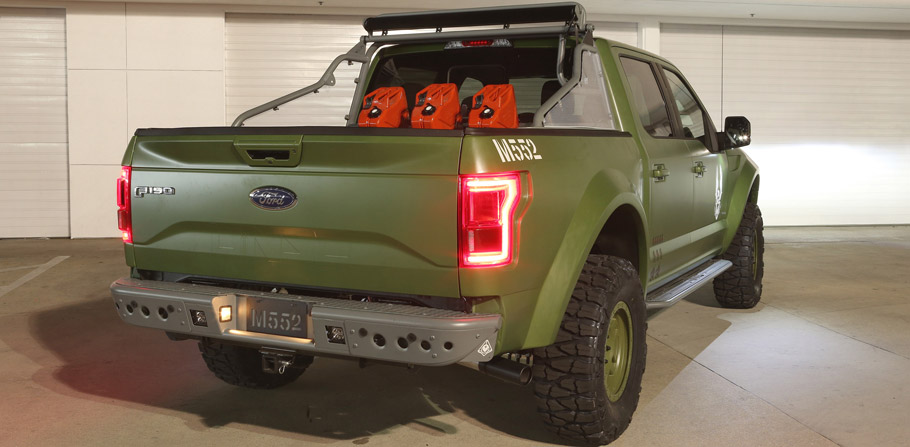 Based on the toughest, smartest, most capable F-150 ever produced, the Halo Sandcat was specifically designated with the M552 codename by the United Nations Space Command. This codename also closely matches F-150's official Ford codename, P552.
GAS turned the truck into the Sandcat, by adding a wide range of updates in order to achieve the militaristic of United Nations Space Command style that Halo fans will instantly recognize.
Design in Details. Look what's inside!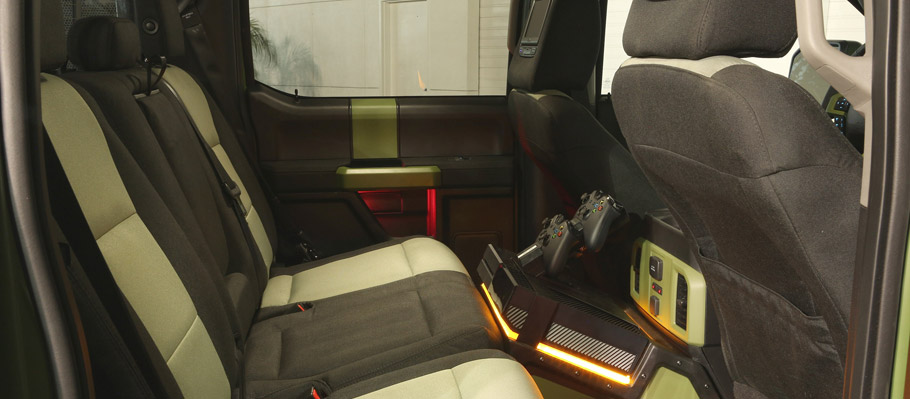 To go into details, the Halo Sandcat is equipped with Addictive Desert Designs' Baja XTR off-road conversion kit. It features FOX Racing shocks, Deaver leaf springs, a Currie full floater rear axle, ADD fenders, side steps, and chase rack. What is more, the pack also adds huge 17-inch wheels fitted with off-road tires which perfectly complement the custom Halo body wrap.
Inside is where the magic happens. GAS installed an Xbox One custom gaming system in the cabin. There are two displays mounted in the rear head restraints and awaiting game players. This feature is so cool, that we definitely need to try it.
For those who are lucky enough to be in LA, Ford F-150 Halo Sandcat will be on display in the South Hall entrance of the Los Angeles Convention Center. The one-off truck will be also on display at several public events ahead of the launch of Halo 5: Guardians.
Source: Ford