2013 Ford Focus ST goes on sale
2013 Ford Focus ST is the latest high-performance hatchback by the brand which is now available to order. It will deliver outstanding performance and handling combined with distinctive interior and muscular exterior design.
Focus ST combines advanced and sport-oriented technologies, such as the Tangerine Scream metallic color and a race-inspired Recaro® seats with matching color accents.
In fact, this Ford model will deliver the perfect balance between pure driving excitement and everyday livability.
The heart of the Focus ST is the highly efficient EcoBoost® 2.0-liter engine. Thank to it the vehicle has responsiveness, strong off-idle power and a broad torque curve. In particular, this engine produces 252 horsepower (185 kW) and 270 lb.-ft. (200 Nm) of torque.
Furthermore, this model comes equipped with a lot of other features which enhance the pleasure of the driving experience. One of them is for instance the sound symposer box which improves the natural sounds of the motor by capturing internal engine oscillations and piping them through the interior under throttle. Under full throttle, the engine music is amplified through the symposer box.
Given the fact that the engine carries the name EcoBoost, this can only mean one thing – fuel efficiency. Although the official EPA figures are not yet available, I can assure you that the fuel economy will be exceptional and n fact – best in class.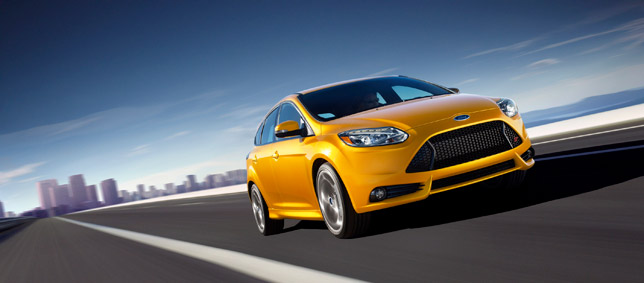 2013 Ford Focus ST has another distinctive feature which makes it a very sporty car. It is namely its unique sport suspension, which combines innovative technologies. For example the agility is enhanced thanks to the variable-ratio steering rack, which makes steering less sensitive on the straightaways but increases sensitivity at the corners.
Another example is the electric power-assisted steering (EPAS) which is enhanced with torque steer compensation. The more aggressive tuning of the torque steer compensation helps the driver feel in complete control.
Some additional highlights of this model are the following features: Recaro sport seats, unique 18-inch Y-spoke ST wheels, dual-zone climate control, Xenon headlights and leather appointments throughout the cabin, SYNC® with MyFord Touch®, Sony® Audio System, HD Radio™ and 10-speaker surround sound.
Source: Ford