Ford Reveals the Mustang Lineup for SEMA

SEMA Show is getting near and every brand is getting crazy about the products it is going to display. Each manufacturer wants to rise and shine and to show one-off vehicles. Some of the most awaited models include the GT-R, Hyundai's creative cars and the American icons – Chevrolet Camaro and Ford Mustang!
This year, Ford will showcase not one, two or three Mustangs at SEMA but eight. Yes, eight. This means that the company is obviously trying to satisfy the wishes and preferences of each and every visitor of the show. Besides the pictures, the company did not release many specifics about the cars, but the images tell a lot.
SEE ALSO:  Ford Mustang with Better Driving Behavior. Video Previews Why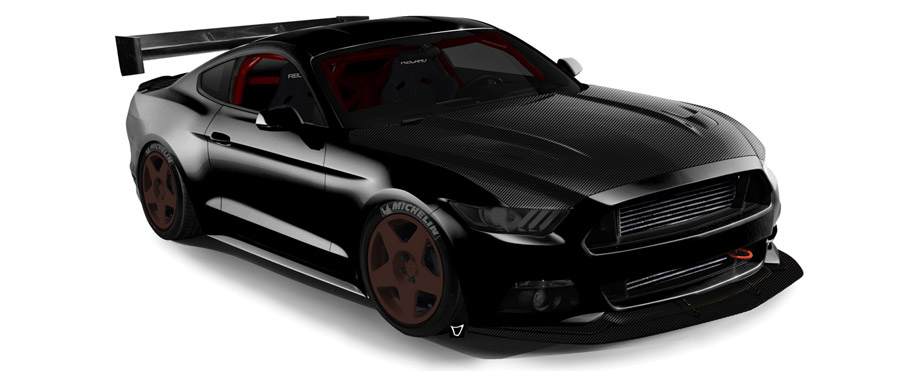 One of the highlights will definitely be Bisimoto Engineering's Mustang with the EcoBoost engine. This is the last picture in our gallery below the text. As you can see, the model is fitted with custom body kit, new coilover suspension and 19-inch Fifteen52 Tarmac wheels accompanied by Toyo R888 tires.
More importantly, the huge changes here are regarding the 2.3-liter EcoBoost four-cylinder unit, which has Turbonetics BTX7668 turbocharger, better camshaft and exhaust as well as forged billet pistons and MagnaFuel 750 fuel pump. As a result, the powerplant now produces 900 hp (672 kW).
Another cool project that will be on display at the show is the DRAGG Mustang police vehicle, which has bi-color black and white exterior, a lot of carbon fiber in the form of additional parts and rides on huge 20-inch Velgen VMB7 alloys shod with Nitto Invo rubbers. The car has also everything necessary to be distinguished as a police vehicle.
The other six Mustangs have been made by the following tuners: CGS Performance, TSI Designs, MAD Industries, MOTOROSO, ICE 9 and Bojix Design. We are soon to have more information on each and every car mentioned here and featured in the gallery. Stay tuned!
Source: Ford via Facebook