Ford Mustang Red Tails GT Edition Celebrates Tuskegee Airmen [VIDEO]
Ford Mustang Red Tails GT Edition is truly unique vehicle. It celebrates and commemorates the contributions of the Tuskegee Airmen, comprised of the 332nd Fighter Group and the 477th Bombardment Group, during World War II.
In fact, the courageous squadron of P-51 Mustang pilots was the United States' first African American military airmen. They were known with the red tails of their planes.
The design of the modified glass-roof coupe will unify the connection of the World War II fighters with a contemporary flair for the serious collector. The exterior includes unique polished aluminum non-production finish paint, accented with Race Red and School Bus Yellow.
On the other hand the interior of this Ford includes modified navigation screen, instrument cluster and rear seat-delete. It includes Recaro seats with embroidered "Red Tails" logo and floor mats embroidered with the 332nd Fighter Group logo.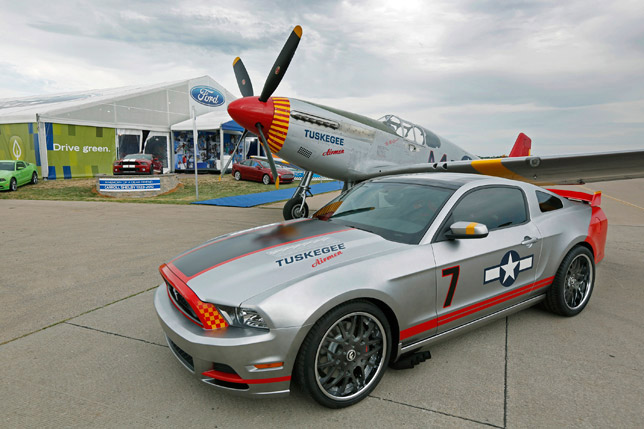 The power and performance of the Mustang is ensured by the Ford Racing 2.3-liter twin-screw Whipple supercharger, handling pack, unique side exhaust, performance quad exhaust from SVT, Forgiato 20-inch aftermarket wheels, GT500 Brembo brakes and rear diffuser.
This one-of-a-kind car will be sold Gathering of Eagles charity auction on 26th of July during the Experimental Aircraft Association (EAA) AirVenture Oshkosh 2012 – the World's Greatest Aviation Celebration.
At EAA AirVenture Ford will showcase to the public the latest advances in automobile technology at the Ford Hangar. In addition, the visitors will also witness the industry's most revered classics at the popular Cruisin' Legends area on the grounds of Wittman Regional Airport.
Source: Ford