Ford Offers Once-in-a-Lifetime Experience to Monster Jam Fans
Ford soon will make once-in-a-lifetime dreams come true for Monster Jam® fans, as the deadline draws near for the Built Ford Tough Monsters on Mainstreet Sweepstakes.
The winner of the sweepstakes will enjoy exclusive behind-the-scenes access at an upcoming Monster Jam event, including an opportunity to interact with the drivers and ride the vehicles. It is an experience that only Ford can offer due to its long-standing relationship with Monster Jam, said Kevin Schebil, manager, Ford Truck Communications.
"More than 30 percent of Ford F-Series customers watch Monster Truck events on television," he said. "Our long-standing partnerships with Monster Jam put us in a unique position to offer these fans incredible experiences they will never forget."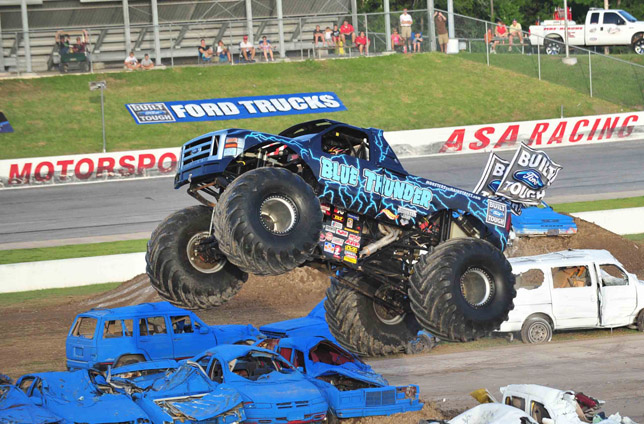 Fans who visit MonstersOnMainstreet between now and March 15, 2009, can enter for a chance to win a VIP trip to the 2009 Monster Jam World Finals in Las Vegas March 27 through March 30, 2009. Three finalists and three guests will receive credentials to see the Monster trucks and their drivers, plus special passes for a ride in Ford's Blue Thunder monster truck.
While in Las Vegas, the three finalists will compete for the Grand Prize: an all-new 2009 Ford F-150, four tickets to the Monster Jam Awards Banquet on March 29, and a Blue Thunder Pit Party in their own backyard, including a catered barbecue dinner with 25 friends and family! The Blue Thunder Monster Truck driver – along with the Blue Thunder Monster Truck and the Blue Thunder Ride Truck – will be at the barbecue to visit with the guests.