Ford Unveils Ultra-Lightweight Concept Fusion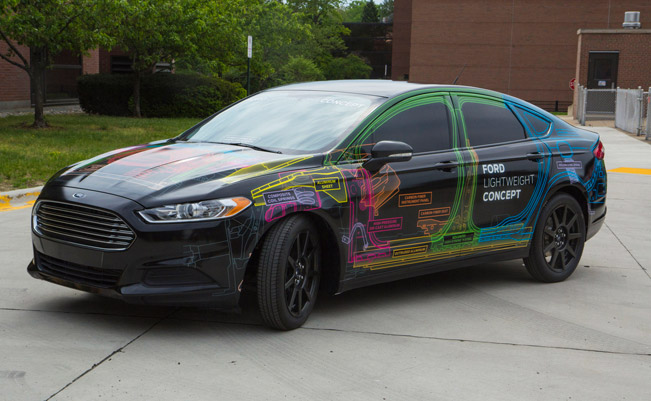 Ford Lightweight Concept is a vehicle, which represents Ford's ongoing research for future light-weight materials. The know-how is based on the experienced gained via the building of the new Ford F-150, which has shed up to 700 pounds through use of high-strength steel and aluminum alloys. In fact, for Ford Motor Company, light-weighting is a key component its Blueprint for Sustainability. The mixed-materials might be applied for future high-volume vehicles for better performance and efficiency as well as CO2 emissions.
Ford Lightweight Concept has reduced the weight of a 2013 Fusion to that of a Ford Fiesta. This means a 25 percent off the weight of the production car. The introduction and incorporation of lightweight materials into vehicle construction has helped reducing the weight of the car. In addition, this also contributes towards better fuel economy and less greenhouse gas emissions.
Along with other fuel-efficiency technologies, light-weighting is fundamental to Ford's efforts to stabilize carbon dioxide concentrations in the atmosphere at 450 parts per million. Ford's Lightweight Concept utilizes many of the same advanced materials found in today's lightweight electronic devices, including aluminum, chemically toughened glass and advanced lightweight plastics.
Advanced materials - aluminum, ultra-high-strength steels, magnesium and carbon fiber, were used for the entire design of the vehicle. This includes the powertrain, chassis, body, battery and interior elements, seats.
This program was lead together with Cosma International, which is a subsidiary of Magna International. Magna's design and development of the multi-material body-in-white, closures and chassis components are a great contribution in the weight reduction of this concept vehicle. For more details take a look at the video below:
Source: Ford