Ford's Intelligent Vehicle-to-Grid Communication System
Ford Motor Company announced today that it has developed an intelligent vehicle-to-grid communications and control system for its plug-in hybrid electric vehicles that "talks" directly with the nation's electric grid.
This new technology – which builds on Ford's advancements such as SYNC®, SmartGauge™ with EcoGuide and Ford Work Solutions™ – allows the vehicle operator to program when to recharge the vehicle, for how long and at what utility rate.
"Electric vehicles are an important element of our strategy for improving fuel economy and reducing CO2 emissions," said Bill Ford, Ford's executive chairman. "This vehicle-to-grid communication technology is an important step in the journey toward the widespread commercialization of electric vehicles."
All 21 of Ford's fleet of plug-in hybrid Escapes eventually will be equipped with the vehicle-to-grid communications technology. The first of the specially equipped plug-in hybrids has been delivered to American Electric Power of Columbus, Ohio. Ford's other utility partners' vehicles will also be equipped with the communications technology.
When plugged in, the battery systems of these specially equipped plug-in hybrids can communicate directly with the electrical grid via smart meters provided by utility companies through wireless networking. The owner uses the vehicle's touch screen navigation interface and Ford Work Solutions in-dash computer to choose when the vehicle should recharge, for how long and at what utility rate.
For example, a vehicle owner could choose to accept a charge only during off-peak hours between midnight and 6 a.m. when electricity rates are cheaper, or when the grid is using only renewable energy such as wind or solar power.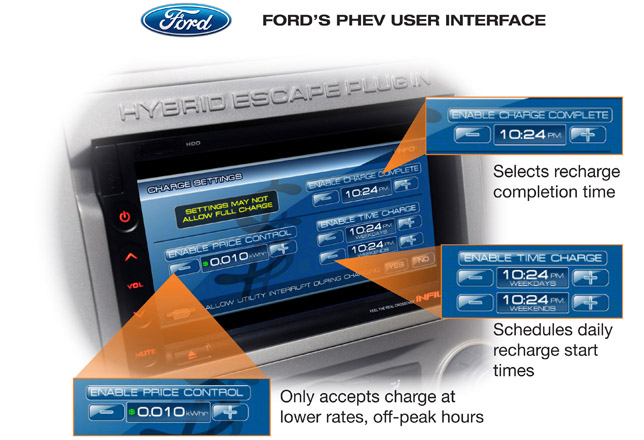 "We are designing what plug-in hybrids and battery electric vehicles will be capable of in the future," said Greg Frenette, manager of Ford's Battery Electric Vehicle Applications. "Direct communication between vehicles and the grid can only be accomplished through collaboration between automakers and utility companies, which Ford and its partners are demonstrating with this technology."
Over the past two years, Ford and its energy industry partners have logged more than 75,000 miles on the plug-in hybrid test fleet. The plug-in hybrid research focuses on four primary areas: battery technology, vehicle systems, customer usage and grid infrastructure.
"Broad commercialization of electric transportation is not something a car company can achieve on its own," said Nancy Gioia, Ford director, Sustainable Mobility Technologies. "Developing and producing the vehicles is just one part of the electric transportation equation. We are well on our way to delivering the vehicles, but for widespread adoption the infrastructure to support the technology needs to be in place and we need to ensure that the national electric grid can support increased electric demand."
Real-world usage and laboratory research is helping to accelerate the advancement of electrified vehicles. Ford and its research partners are now focusing on ways to make the recharging process easy and efficient for consumers. In addition to low-cost recharging at home through the use of a smart meter, Ford researchers say recharging away from home – whether at work, in a shopping mall parking lot or at a curbside station – needs to be as simple as plugging in and swiping a credit card.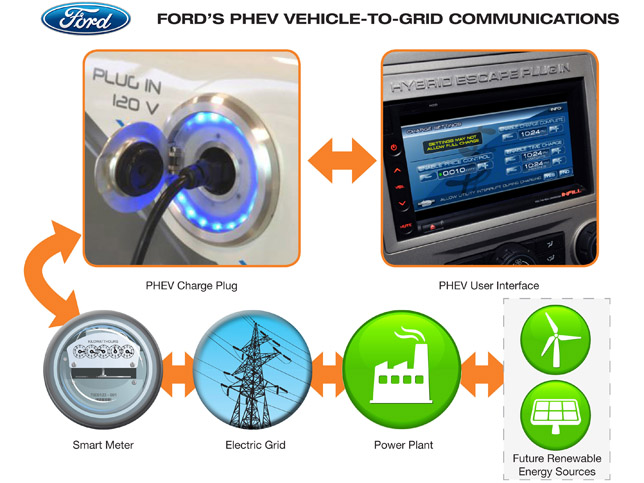 The plug-in hybrid advantage
Plug-in hybrid vehicles offer several benefits, including:
Reduced dependency on petroleum and increased energy independence
Reduced environmental impact through reductions in greenhouse gas emissions
Increased use of electricity from renewable energy sources (e.g. wind and solar) for vehicle recharging
Potential consumer cost savings on energy/fuel costs
Powerful partnerships In 2007, Ford announced a partnership with Southern California Edison, the electric utility with the nation's largest and most advanced electric vehicle fleet. The partnership is designed to explore ways to make plug-in hybrids more accessible to consumers, reduce petroleum-related emissions and understand issues related to connectivity between vehicles and the electric grid.
Since then, Ford and Electric Power Research Institute (EPRI), an independent nonprofit organization, have expanded the partnership, with a three-year plan to develop and evaluate technical approaches for integrating PHEVs into the nation's electric grid system, a key requirement to facilitate widespread adoption of the vehicles.
Ford's key partners include:
Electric Power Research Institute (EPRI)
U.S. Department of Energy
Southern California Edison
New York Power Authority
Consolidated Edison of New York
American Electric Power of Columbus, Ohio
Alabama Power of Birmingham, Ala.; and its parent, Atlanta-based Southern Company
Progress Energy of Raleigh, N.C.
DTE Energy of Detroit
National Grid of Waltham, Mass.
Pepco Holdings
New York State Energy and Research Development Authority, a state agency
Hydro-Québec, the largest electricity generator in Canada
"Ford's involvement in the collaboration with EPRI and some of the nation's leading utilities will help accelerate the pace leading to the commercialization of PHEVs," said Arshad Mansoor, vice president of EPRI's Power Delivery and Utilization Sector. "This type of joint effort between an auto manufacturer and utilities will permit a more seamless integration of electric-drive vehicles into the power grid and the transportation sector."
Ford also has announced key collaborations with:
Smith Electric Vehicles, Europe's leading battery electric commercial vehicle upfitter engaged by Ford to help bring the Transit Connect battery electric vehicle, a small commercial van, to market in 2010
Magna International, the supplier jointly developing the Ford Focus battery electric vehicle passenger car for 2011
Johnson Controls-Saft, the battery supplier for Ford's first production plug-in hybrid vehicle coming to market in 2012
Getting charged up Ford recently was selected for two grants from the Department of Energy under its fleet electrification program. The program is designed to accelerate viable commercial volumes of electrified vehicles and vehicle-to-grid infrastructure development.
One grant, for $30 million, will help fund Ford's collaboration with utility partners across the nation with an expansion of a vehicle demonstration and grid integration program.
Ford also will receive a $62.7 million DOE grant for production of an electric-drive transaxle that could be used for hybrid and plug-in hybrid vehicles at Ford's Van Dyke transmission manufacturing facility in Sterling Heights, Mich. This grant will be matched by Ford.
DOE grant funds also will support production of electric-drive system components at Ford supplier Magna, for the Ford Focus battery electric vehicle, as well as Johnson Controls-Saft, which will supply high-voltage batteries for Ford's plug-in hybrid vehicle in 2012.
Ford plans to invest nearly $14 billion in advanced technology vehicles in the next seven years, retooling its U.S. plants more quickly to produce fuel-efficient vehicles and help meet the new, rigorous fuel economy requirements.