2012 Ford B-MAX features the new SYNC technology
The so strongly awaited and anticipated new 2012 Ford B-MAX will feature class-leading technology, which will make this small family car a powerful one. Ford B-MAX makes its first public appearance at a key technology event: the Mobile World Congress in Barcelona.
The reason for this is featured in the vehicle new SYNC technology: a voice-activated in-car connectivity system that takes the integration of mobile devices, voice control and convenience to a new level with extensive device compatibility and voice command in diverse languages. Moreover, the new SYNC technology can seamlessly connect to mobile devices various means: it not only includes Bluetooth, an iPod and flash drive compatible USB connection but also brings a potentially lifesaving feature in Emergency Assistance. This is the only feature of its sort which is designed to respond to a crash by using the customer's connected mobile phone to call the emergency services directly. Ford also expects to have over 3.5 million SYNC-enabled vehicles on the roads of Europe by 2015.
The new version of the B-MAX features the Ford Easy Access Door System which is unique for the car and integrates central body pillars into the hinged front doors and sliding rear doors to create large, unobstructed openings on either side of the car. Moreover, the B-MAX engine range delivers 15 per cent more economical motoring with class-leading fuel economy and CO2 emissions available on both the 1.0-litre EcoBoost petrol engine and 1.6-litre TDCi diesel engine.
The firs one can develop 120PS (88 kW) and offering 114g/km CO2 emissions and fuel economy of 4.9l/100km (57.6mpg. Furthermore, Torque Vectoring Control, will improve driving dynamics and cornering control. On the other hand, the Active City Stop will help drivers avoid low-speed collisions using a forward-facing infra-red camera to detect objects in front of the car and automatically apply the brakes in case the driver fails to respond. The 2012 Ford B-MAX will make its world debut at the 2012 Geneva Motor Show in early March and later this year will go on sale in Europe.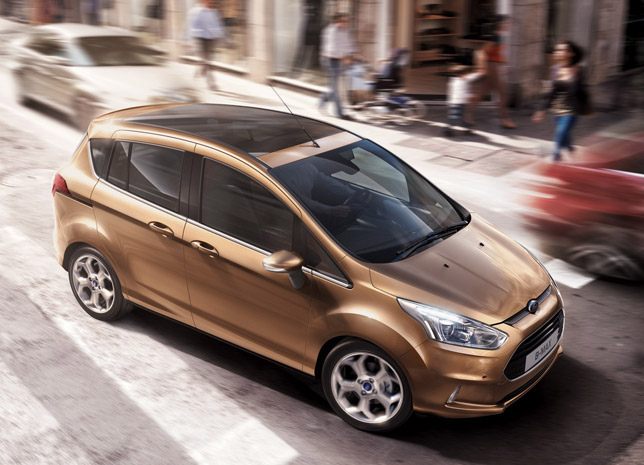 Source: Ford