Fostla.de Wrapps-Up Porsche 991 GT3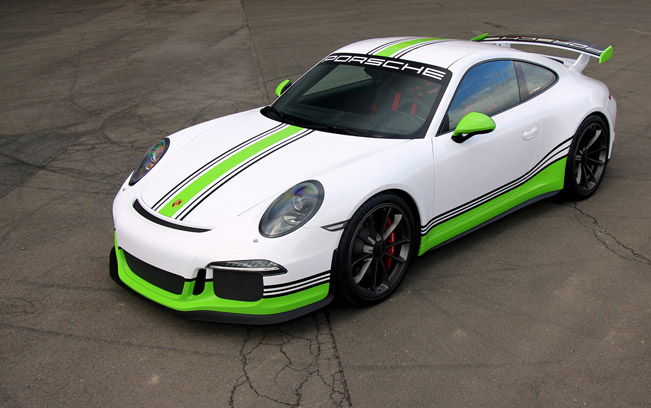 Fostla.de Porsche 991 GT3 delivers new sporty exterior appearance. It was achieved by the full wrapping performed by the tuning specialists at the German company Fostla.de. The foil application is said to have many advantages over the standard painting. First of all, it exudes craftsmanship, secondly – it improves the individual appearance of the car, and at last - it conserves the its value. In particular, this Porsche 991 GT3 has been dressed in glossing white foil, and then its front has been covered with double layer wrapping.
The professionals at Fostla.de say that only after that began the scrupulously precise work in detail. A bilious green design foiling goes around the lower corner of the car body. It can't be seen however at the rear area.
In addition, the upper edge of the air inlet at the front forms the borderline to the white body area. It manifests itself on the body sides by three black stripes. Behind the doors, the borderline clearly mounts up to the rear wings.
What is more, the bilious green longitudinal stripes have been added to the front bonnet, roof and rear motor bonnet. At the sides, each green line is limited by black stripes. The outer mirrors and the rear wing diffusors have been also wrapped in green. At last, what rounds out this project is the upper front window corner, which has been decorated by a wedge with Porsche logo.
Source: Miranda Media