Fostla.de Transforms BMW M6 Convertible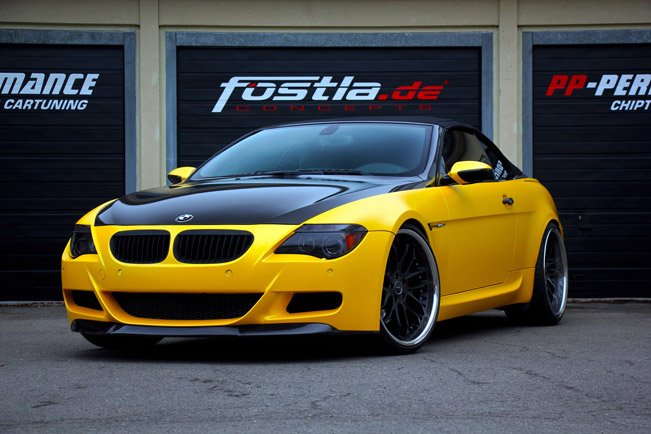 Fostla.de is a tuning company based in Germany which specializes in foil-wrapping and which is now taking it hands on the BMW M6 Convertible. The tuners have improved the model in terms of exterior appearance and styling, thus making it even more desirable and individual.
The car has been almost fully foiled in matte PWF Yellow color. Only the bonnet, front spoiler lip and parts of the exterior mirrors have been decided in black Monza carbon, in order to make the perfect contrast to the yellow and to deliver more sports-sensation.
A tint technique of 5% has been applied to the windows as well as to the headlights, taillights and indicator signals. More importantly is that this BMW received a power upgrade via an optimization of the motor control. The result is that the pwertrain now manages to generate 537 hp (395 kW) and a 545 Nm (402 lb-ft) of torque.
This increase of power also means a faster acceleration time. The enhanced M6 sprints from 0 to 100 km/h for only 4.30 seconds on its way to a top speed of 300 km/h. To make this result possible, a contribution are also making the set of Race GTR rims Breyton in the dimensions 9x22 ET30 at the front and 11.5 x 22 ET30 at the rear. They were combined with 25mm-SCC spacers and fitted with appropriate tires.
The M6 has been lowered by 25 mm via the utilization of H&R lowering springs. Finally, this M6 received a brand new race sports exhaust system delivered by Eisenmann. It comes with four oval tailpipes in 120x77 mm and has an engraved Eisenmann logo.
Source: Fostla.de