Fox Marketing Hyundai Veloster Turbo To Debut At SEMA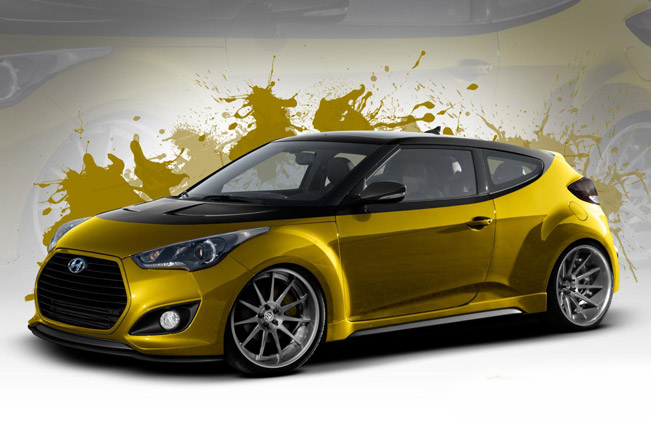 Hyundai and Fox Marketing have joined forces in order to create the most powerful street-focused Veloster Turbo ever. The vehicle will be on display at the SEMA Show which will take place in Las Vegas between 5th and 8th of November.
Fox Marketing has made some impressive upgrades to the Hyundai's production 1.6-liter, 4-cylinder direct-injected, turbocharged Gamma engine. To be more precise, a comprehensive package of advanced engine components, including a new 845 Motorsports turbo upgrade, BorgWarner EFR turbo, front-mounted intercooler, AEM water/methanol injection system, VP Racing 101-octane performance fuel and an ECU tune from SeoulfulRacing, enhances the output of the unit up to 370 horsepower (272 kW).
What puts all that power on the road are the addition of the new UNIQ Performance strut brace, ImportShark chassis bracing and fully-adjustable ARK Performance coil-over suspension. What is more, the braking performance was also improved thanks to the addition of WP Pro EX6 6-piston front calipers with carbon fiber ducting and 13.6-inch wavy-cut rotors for neck-wrenching stopping power.
Other modifications regarding the exterior are the unique paint finish – the R-M Oynx HD Waterborne SkyAqua Pearl, new fog lights taken form Hyundai Genesis model, an ImportShark front lip spoiler, custom rear fascia mesh and custom front fascia.
On the other hand, the interior of this vehicle was also refined and particularly it was given new Street Pro LE seats and Takata Drift III 4-point harnesses.
Fox Marketing Hyundai Veloster Turbo Details:
POWERTRAIN
1.6-liter turbocharged, direct-injected Gamma 4-cylinder engine
SeoulfulRacing factory ECU custom tune
845 Motorsports Turbo Upgrade
BorgWarner EFR 6258 turbo
845 Motorsports stainless steel tubular manifold
1.5-in. primaries with ½-in. flanges
Vband 3-in. 304 stainless downpipe
845 Motorsports 3-in. aluminum cold air intake
Front-mounted intercooler
2.25-in. aluminum hot-side charge pipe
2.5-in. aluminum cold-side charge pipe
Custom oil and coolant lines
Nitrous Express N-Tercooler sprayer
AEM X-WiFi (EGT-Air Fuel) iPhone mobile gauge solution
AEM water/methanol injection
AEM Tru-Boost
ARK Performance 2.5-in. cat-back exhaust
VP Racing VP101 performance fuel
CHASSIS
ARK Performance 35-way adjustable coil-overs
UNIQ Performance strut tower brace
ImportShark mid-brace, chassis brake, lower tie bar, cross-bracing, sway bars
EXTERIOR
BASF R-M Oynx HD Waterborne SkyAqua paint
BASF R-M Oynx HD Black D403 paint
Custom Hyundai Genesis Coupe fog light surrounds
Genesis Coupe fog lights
ImportShark front lip spoiler
Custom rear fascia mesh
Takata black tow strap
INTERIOR
Takata Street Pro LE reclining racing seats
Takata seat sliders
Takata Drift III 4-point harnesses
Custom steel bases
Custom Takata rear seats
BRAKING
Front:
WP Pro EX6 6-piston calipers with carbon-fiber ducting
13.6-in. wavy-cut rotors
Stainless steel braided brake lines
Source: Hyundai