2014 Hyundai Veloster Turbo R-Spec Gets Sporting Equipment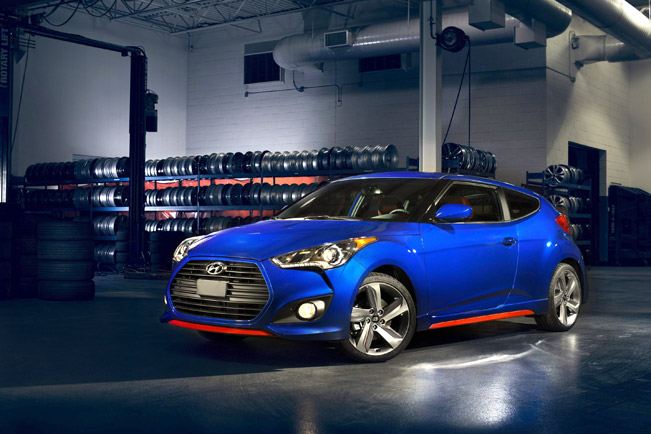 2014 Hyundai Veloster Turbo R-Spec has been just added to the linep of exclusive Hyundai sport vehicles. The R-Spec offers not only more responsiveness but also ports aftermarket-tunable 1.6-liter direct-injected turbocharged engine coupled with the six-speed manual transmission, and a short-throw B&M Sport Shifter.
Not to mention its unique design cues, enhanced chassis tuning and B&M Racing Sport Shifter. In fact, the Veloster Turbo R-Spec is the fourth R-Spec model in Hyundai's lineup. It comes to add to the exquisiteness of the Genesis Coupe 2.0T R-Spec, Genesis Coupe 3.8 R-Spec and Genesis 5.0 R-Spec.
In this case, car's sport suspension and steering settings have been retuned for maximum responsiveness, with higher spring rates and a more rigid transmission mount. Next, the exterior of the model adds a sporty red-accented front splitter and side blades, with R-Spec badging on the rear hatch.
Veloster Turbo R-Spec will be offered in four colors: Elite White, Ultra Black, Marathon Blue and Sprint Gray. The performance-oriented theme is continued throughout the interior which includes red leatherette bolsters with red/black cloth insert sport seats and embroidered floor mats. The cabin has also received Active Sound Design, which provides richer in-cabin powertrain resonance for an even more involving driving experience.
What enhances the focused driving experience is the Torque Vectoring Control (TVC). This feature uses the capabilities from the Electronic Stability Control (ESC) and powertrain control systems, and enhances dynamic cornering during more enthusiastic driving. In addition, TVC also utilizes wheel-speed sensors coupled with ESC algorithms. This serves in terms of application of the braking force to the inside front wheel during spirited cornering.
2014 Veloster Turbo R-Spec Highlights:
Unique R-Spec suspension and steering tuning for enhanced agility and feel
6-speed close-ratio manual transmission with new shift knob design
Short-throw B&M Racing Sport Shifter for a tighter, high-precision shift feel
Red exterior accents on front splitter and side blades (optional; later availability)
Red leatherette bolsters with red/black cloth insert sport seats (in lieu of standard leather on other Veloster Turbo models)
R-Spec embroidered-logo floor mats and R-Spec exterior badging
2014 Hyundai Veloster Turbo R-Spec has been priced at $22,110 USD and its production will begin in December this year.
Source: Hyundai