Full of Style and Charisma: Kahn Range Rover Evoque RS250 Vesuvius Edition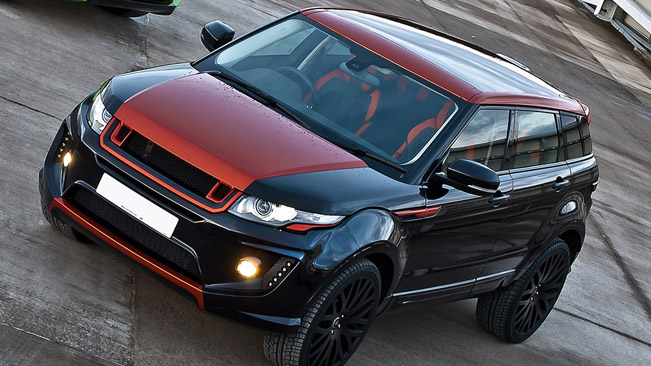 Kahn Range Rover Evoque RS250 Vesuvius Edition promises to be a true style icon. The black body contrasts very strongly the "Vesuvius" matte orange roof and bonnet stripe complete with the Kahn lettering on the bonnet's leading edge.
Being an Evoque model it has seductive proportions and incomparable stance on the road. The enhancements that the talented Kahn team has done include a front bumper replacement with integrated vents complete with 3D mesh inserts, front bumper grille inner in matte black, side vent surrounds in matte black, LED day time running lights for the front bumper vents, painted bonnet stripe, rear bumper replacement with integrated vents.
But this is not all! The list continues with new brake calipers finished in Vesuvius orange, front bumper mesh in matte black, front headlight detail in copper, side vent inserts in copper, front bumper replacement fog lamps, wheel arch trims and side sills in body colour, front bumper centre section graphic in matte black, front grille outer section in body colour, painted floating roof and side sill trim in body colour.
And what it feels like driving this RS250 Evoque Vesuvius? Imagine that you sit behind the privacy glass and pilot the engine while listening to the new Kahn cross hair exhaust system! Could you picture that?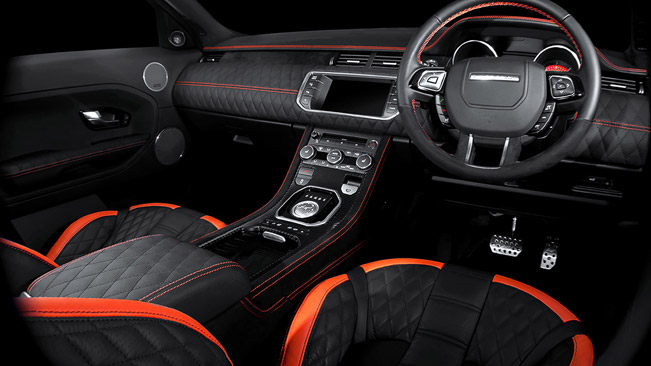 All familiar with the work of Kahn Design tuning specialist know that they are unsurpassed in their work on the inner part of the automobile. Inside is the 'bespoke touch', of course. The front and rear seats are completed in black leather with alcantara and Vesuvius orange detail.
In addition, the transmission tunnel is in alcantara with contrast stitching, the centre dashboard trim is in leather with contrast stitching, while the four door armrests include diamond quilted with orange stitching as well as do the four door panel tops.
The centre dashboard trim is done in alcantara – again with contrast stitching. There also can be seen a diamond quilted centre glove box with contrast stitching, diamond gear selector, door entry sill plates in stainless steel, floor mats – high quality heavy duty carpet, vented foot pedals in machined aluminum along with a speedo and rev counter in Vesuvius orange.
Going again to the exterior what is left are the wheels. Kahn wheels sit perfectly on any vehicle. This vehicle in particular comes tuber's RS wheels which are available in 9.5 x 22 and fit all original centre caps.
Source: A. Kahn Design