G-Power shows how the BMW X5 M could have unlimited source of power
G-Power uprates second gen BMW X5 M F85 to 750 HP and 980 Nm 
BMW X5 M is in its second generation and is one of those outstanding SUVs that offer not only style, but also performance. Powered by a twin-turbo V8 with significant potential, (575 hp and 650 Nm of torque), the X5 have capabilities that other rivals should be envious about. But what happens when you want to extract power even further? Obviously, the first thing you can do is find and call someone who can help you.
You can reach out to G-Power for instance. The experts at the tuning company specialize in making the M Series, into more than just an M Series. In other words, they unlock the hidden potential of the cars that come in their garage. They have exactly what you need for your X5 M: a three-stage performance upgrade and other modifications that aid performance.
SEE ALSO: When one 600HP BMW is not enough, you make two of them! 
Stage 1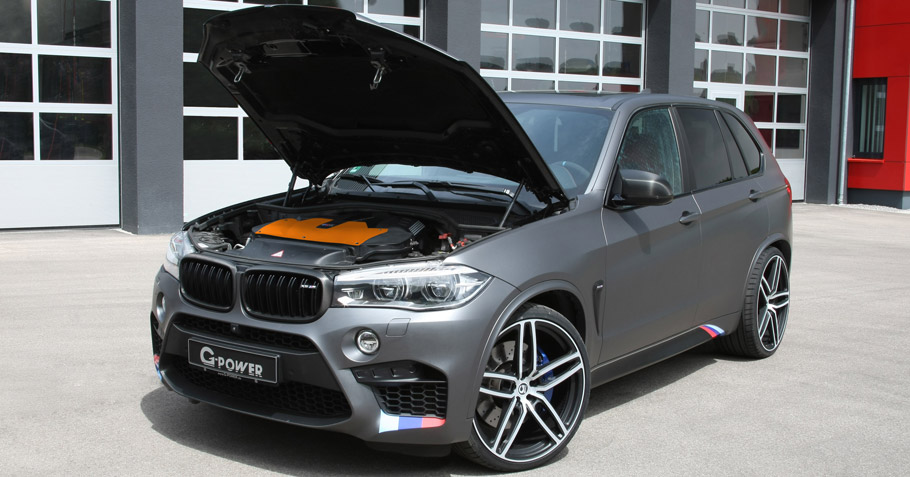 This stage raises the output to 650 hp via a simple software remap, G-Power Bi-Tronik 5 V1- or the Bi-Tronik 2 V1-remap. The results recorded by the dyno are an additional 75 hp and 100 Nm of torque for both, making it to a total of 650 hp and 750 Nm.
Stage 2
It steps over the first stage and adds a special flow-optimized stainless steel downpipes to the exhaust system. Then the software upgrade is calibrated to eventually jump to 700 hp and 905 Nm of torque.
Stage 3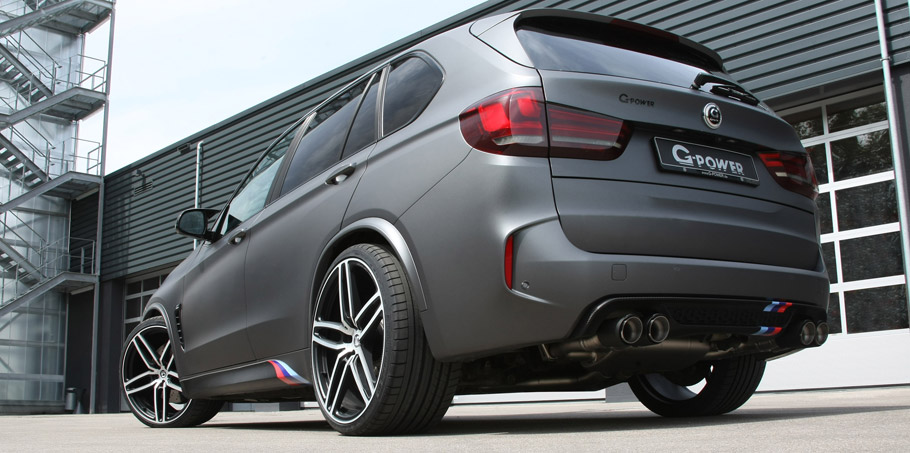 The last stage generates 175 hp over the stock, bringing about the effect of an incredible 750 hp! The torque has been uprated to 980 Nm delivered between 3000-4000 rpm. Here the turbochargers are re-engineered with larger turbine and compressor wheels that spin within machined and gas-flowed housings. They work hand-in-hand with the stainless steel downpipes and a titanium exhaust system. By the way the latter is fitted with two rear silencers and four 100 mm diameter tailpipes; and it also releases a very powerful and impressive soundtrack.
Performance-wise: the quarter mile is reached within 11.5 seconds, while the V-max has been unleashed to 300km/h.
At last, G-Power's X5 M benefits not only from better performance but also from new GX5M-RS coilover suspension and 23-inch HURRICANE RR forged alloys. And this is the most simple way you can make your X5 M more individual and powerful! Enjoy!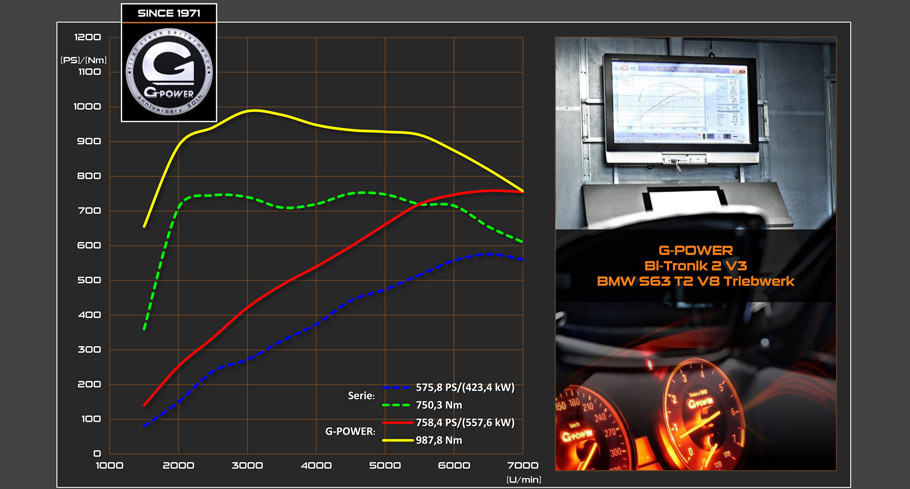 Source: G-Power