G-Power Hurricane RR BMW M5 E61 Touring - 820HP and 790Nm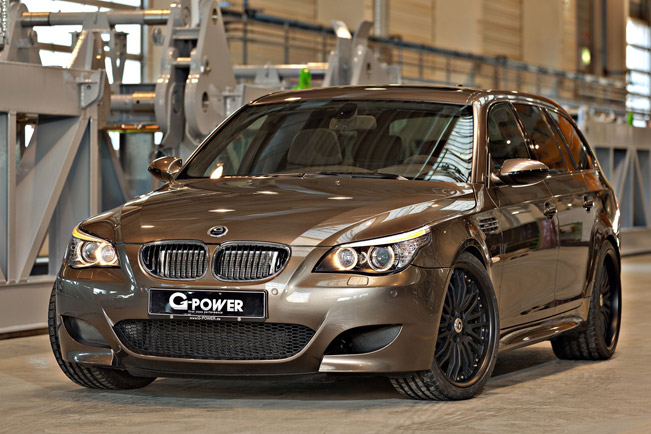 G-Power is now offering modified Bi-Kompressor system for the BMW M5/M6 E6X series. It can catapult the G-Power BMW M5 Hurricane RR Touring to 362 km/h (225 mph). The same powertrain in the M5 E60 (Sedan) is capable of doing 372,1 km/h (231 mph).
The extremely powerful Hurricane RR Touring can also accelerate 0-100 km/h in 4.4 seconds, 0-200 km/h in 9.5 seconds and 0-300 km/h in 25.6 seconds. The 5.0 liter V10 Bi-Kompressor engine develops 820HP (603 kW) and 790Nm (585 lb-ft) of torque. The pricing starts from €7,300 for the basic system. The Mono-Kompressor system, based on a single ASA T1-724 supercharger has several Stages – 600HP, 620HP, 640HP and 700HP. The Bi-Kompressor system offers 820HP.
The G-Power M5 Hurricane RR Touring rolls 20" SILVERSTONE RS wheels with MICHELIN Pilot Sport tyres measuring 255/35 ZR 20 and 285/30 ZR 20. There is also a G5-RS coil-over suspension with 9-way adjustability for compression and rebound plus infinitely variable height adjustment. Other performance upgrade is the big brake system – discs measuring 396 mm on the front and 380 mm on the rear with 6 and 4-piston calipers. The tuning company also offers ceramic brake set, which delivers a reduction in unsprung masses of around 50%.
The interior boasts premium leather and Alcantara, new floor mats and trunk cover. There are also logos in the front seats and the headlining set tasteful accents in this sophisticated composition of Carbon, leather and Alcantara.
The modification of the M5 HURRICANE RR Touring interior by G-POWER is completed by an exclusive multimedia entertainment system that leaves nothing to be desired. Next to a powerful audio system, electric powered iPads in the rear of the front seats, a lowerable main monitor from the headlining and an Apple iMac incl. Apple TV enable leisure time or productive work according to the desires of the car's owner.
Source: G-Power