BMW M5 G-POWER HURRICANE RS Touring
BMW M5 G-POWER HURRICANE RS Touring is powered by twin-supercharged V10 with 750PS (551 kW). It is built for one and only reason to be the fastest estate car on the planet and it did it - 360 km/h. This is enough to beat the existing record of 344.2 km/h set by MTM Audi RS6 R from 2009.
Here is the video, where HURRICANE RS Touring does 224 mph.
The staggering results are thanks to a number of upgrades. Firstly, the two ASA T1-316 superchargers, charging one cylinder bank each, the pre-compressed charge air is brought down to performance-enhancing temperatures by the twin-scroll, water-cooled intercooler finished in G-POWER's characteristic orange. There is also a sophisticated cast aluminium component, which replaces the series-production airbox of the engine.
The engine received lightweight, precisely balanced Mahle high-performance forged pistons with lower compression and increased stiffness. It also gets special con-rods and piston pins.
Finally, G-Power retuned the electronics to get maximum result -  750 PS (551 kW) between 7 500 and 8 000 revs/min. The maximum torque of 750 Nm is reached at 5 000 revs.
The acceleration - 0 to 100 km/h in 4.5 s, to 200 km/h in 9.7 s and the 300 km/h mark is reached in just 26 seconds after the launch.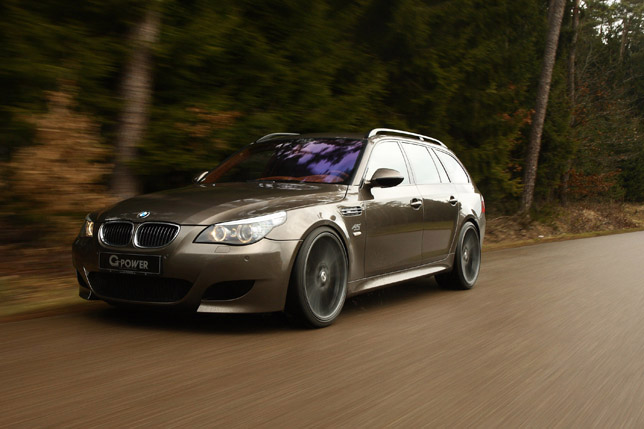 HURRICANE RS Touring stands on 20-inch G-POWER SILVERSTONE DIAMOND wheels fitted with ultra-performance tires in dimensions -  255/35 ZR 20 and 285/30 ZR 20. To improve the hanglid, the tuning company has installed coil-over suspension with nine-way adjustability for compression and rebound plus infinitely variable height adjustment.
The brake system is also very serious - 396 mm discs on the front and 380 mm on the rear, combined with 6 and 4-pot callipers respectively, deceleration forces upwards of 1g. There is also an option for G-POWER ceramic brake set, which delivers a reduction in unsprung masses of around 50%.
The interior is as exclusive as the exterior and performance. Inside, everything is upholstered by G-POWER in premium leather and Alcantara offers impressive confirmation of what is possible above and beyond "BMW Individual" equipment.
Finally, the price is € 242 016.80 EUR  and includes the 20" wheel set, suspension, brake system and the power increase to 750PS, as well as the G-POWER full-leather upholstery to the level illustrated. Not bad for a Touring car!