G-Power BMW M5
The latest M5 (F10) may be a downsized successor of its previous generation but it still packs a punch, and that is an understatement. It is actually more powerful with less cylinders and less drama. The people from G-Power respect that but, because tuning is what they do, they have added more power to the M performance monster.
What they have done to the "standard" 4.4l V8 engine is to replace the turbo with an ASA supercharging turbine and tune the engine management system in a way so that the power is now up to 640 hp instead of 560 hp and torque has gone from 680 Nm to 777. That setup is not malignant in any way to the engine, say G-Power. That translates into a time of 3.9 seconds for the 100 km/h sprint. For 11,9 the BMW will get to 200 km/h.
Further improvements focus on the acoustics - a G-Power sports rear muffler with 4 x 100 mm tailpipes gives the BMW M5 a deep, throaty sound partly due to the "DEEPTONE" technology patented by the company.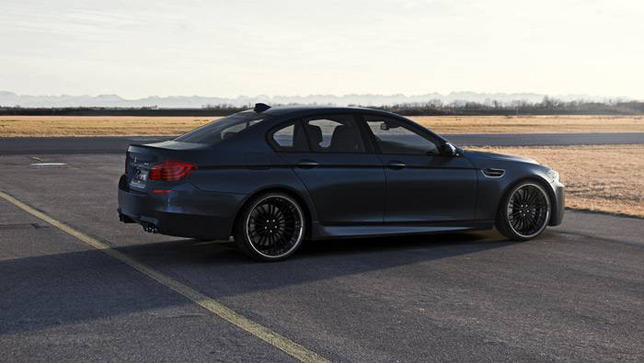 The whole car sits on four 21 inch G-Power Silverstone RS forged wheels, wrapped in Michelin tires. The rear tires are wide enough land a plane on them - 305/25 ZR 21. The front pair is equally impressive with a sizes of 265/30 ZR 21. A big plus for the wheels is the light alloy from which they are made that does not compromise stability. Add that to a highly adjustable G-Power coil-over suspension GM5-RS with numerous settings and you get the perfect street/road car. The thing is, even as a standard car, the M is bound to fade its own brakes overtime. That is why, as a roundup, we have a G-Power Braking System complete with 396 mm brake discs, six-piston calipers. Heat is dissipated more efficiently and the stopping force is stronger than usual because of the larger pads and metal-coated brake lines. And because the system is mainly ceramic, it also saves weight. (up to 50% percent lighter than the standard braking kit)
Source: G-Power