GeigerCars Dodge Ram 1500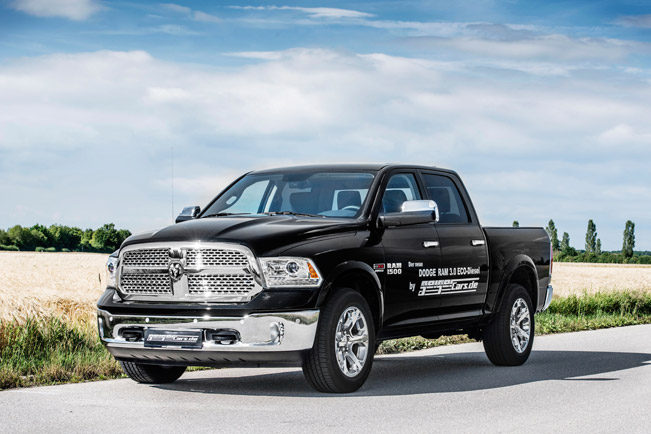 Dodge RAM 1500 is now presented to us with breathtaking variation. In my opinion it's probably the best looking full-size pick up truck on the road. It was named a "Motor trend truck of the year 2014", the only vehicle to win that award in back-to-back years.
This award winning, half ton pickup truck is equipped with the new 3.0 liter V6 Common Rail turbo diesel engine, with the maximum performance of 241 hp (179 kW). With a maximum torque peak of 569 Nm (419 lb-ft). Highly manageable consumption rate of just 7.5 liters(100 km), ( 38 mpg UK or 31.3 mpg US), along with a brand new automatic 8-gearbox, pneumatic suspension and huge trailer load of a maximum of 3,500 kg Dodge RAM 1500 4x4 Crew Cab Ram Box 3.0l V6 EcoDiesel, makes us happy and mostly surprised to witness its overwhelming leadership over the Nissan Navara which has a slightly different gearbox of just 7 levels.
What I really like about that Dodge Ram is how wide the doors open with a great entryway. As far as for legroom, there is plenty of space in the backseat position with enough space for your knees, providing enough room to feel as comfortable as you can. The headroom is great, and even better with a indent at the top of the roof line which provides extra room for the taller ones.
The leather interior is what I like as well, with its brown on tan color scheme. A folding armrest placed at the middle of the backseat to which you can lean on, along with a pair of cup holders. There are also two cup holders on the floorboard. An 8.4 inch touchscreen display has all the navigation controls you can access and work on making your driving a lot easier.
The rear view camera position is right next to the handle of the tailgate which allows you to see how close you are to the trailer hitch, assuming you want to attach a trailer or a boat. A few other safety items, like parking sensors positioned all along the rear bumper, along with duo exhaust tips. The Dodge Ram 1500 behaves extremely well and handles itself good in deep snow and rough terrain.
Source: Dodge