GeigerCars Ford Mustang Shelby GT640 Golden Snake
Ford Mustang Shelby GT500 is a pure fun car, but somehow it need more individuality and here comes the tuned version by GeigerCars. The tuning company has unveiled a special performance and styling packages for the Coupe. The name of the project is GT640 Golden Snake and as you may suggest – 640 is the number of the horsepower.
The styling package includes a matte gold finish, a carbon fiber hood, a front lip spoiler and widened side skirts. For better stance and handling, the tuner installed an adjustable H&R sports suspension and huge 20" alloy wheels wrapped in Michelin Pilot Super Sport tires.
The power of The Beast comes from a mighty 5.4 liter supercharged V8 with ECU re-map and stainless steel sport exhaust system. The result is staggering 640PS (471 kW) and 789Nm (582 lb-ft) of torque, so it is a real muscle car. The acceleration is brutal – 0 to 100 km/h in 3.7 seconds and top speed of 295 km/h (183 mph). As we know, the American muscles do not have the best aerodynamics in the world and even with such amount of power, the car can't pass the 300 km/h barrier.
GeigerCars Ford Mustang Shelby GT640 Golden Snake is priced at $125 475. However, all components can be ordered separately.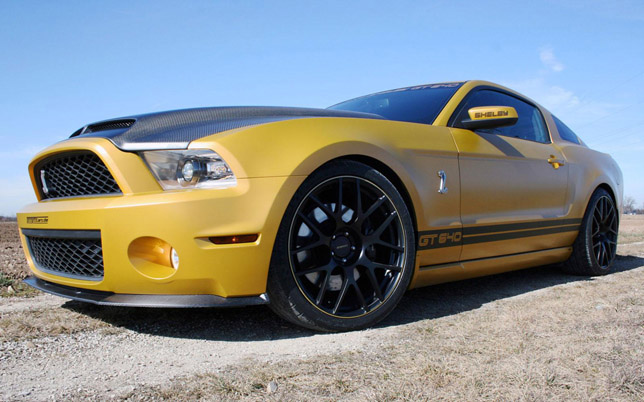 Source: GeigerCars