GEMBALLA MISTRALE at Top Marques 2011
At the now running 2011 Top Marques Monaco luxury fair, Gemballa, the renowned tuner of Porsche rides has publicly presented its latest masterpiece creations – the GEMBALLA TORNADO, based on the Porsche Cayenne (958) and the GEMBALLA MISTRALE based on the Porsche Panamera (970).
The GEMBALLA MISTRALE is a brand-new conversion, which takes the most tuners' beloved Panamera model to new dimension of aerodynamics, style and luxury. It is characterized by almost fully re-styled body, monstrous 22-inch forged multi-spoke lightweight rims and a set of massive brakes with 411mm cross-drilled, vented discs with six-piston monoblock calipers at the front and 380mm cross-drilled, vented discs with four-piston fixed calipers at the rear.
In the terms of performance, the all-new GEMBALLA MISTRALE is available with a choice of two output levels – Stage 1 (610 horsepower and 850 Nm of peak torque) and Stage 2 (700 horsepower and 1,000 Nm of maximum torque), achieved via installing bigger turbochargers, enhanced intake unit, high efficiency intercoolers, sports exhaust unit, free-flow catalytic converters and skillfully remapped  ECU.
Opening the doors of the 'insane' Panamera conversion, its fascinating interior ambience immediately pleases the eye, boasting GEMBALLA's craftsmanship, with perfectly combined materials and colors, including high-end, noble leathers and Alcantara.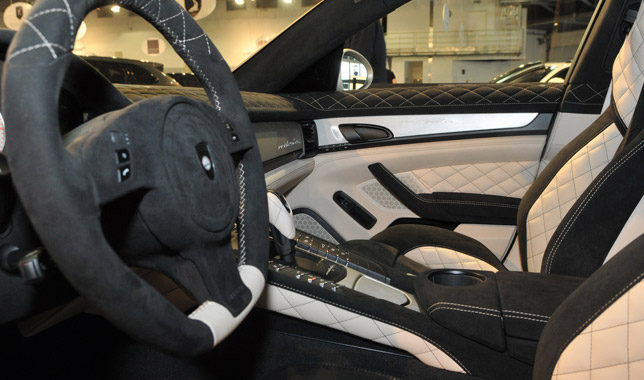 Source: Gemballa