Geneva Motor Show: Chevrolet Unveils Corvette Stingray Convertible [VIDEO]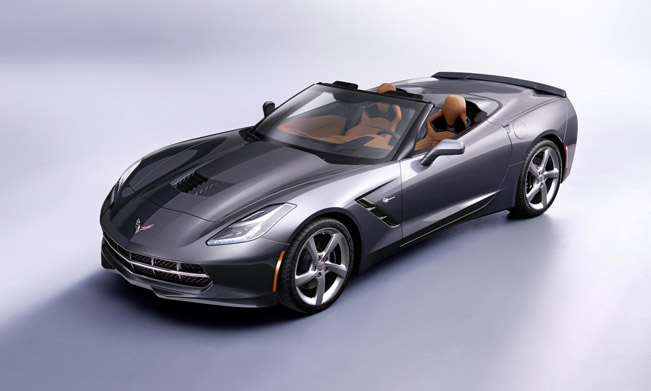 2014 Chevrolet Corvette Stingray Convertible has just been unveiled by the brand at the start of this year's Geneva Motor Show. It has an estimated 450 horsepower (335 kW) and 450 lb.-ft. of torque (610 Nm), which makes it the most powerful standard Corvette in history.
Of course, everything we have seen in the 2014 Chevrolet Corvette Stingray Coupe we are to find in its cabrio sibling. The only structural changes are limited to accommodations for the folding top and repositioned safety belt mounts. The highlight in both models is the new and more rigid aluminum frame structure, which is 57 percent stiffer and 45 kg lighter than the current steel frame.
All models are powered by the LT1 6.2L V-8 which delivers 450 horsepower (335 kW). The unit combines several advanced technologies such as direct injection, Active Fuel Management and continuously variable valve timing to support an advanced combustion system designed to balance power and efficiency.
In addition, what is new here is the fully electronic top that can be lowered remotely using the key fob. The top can also be opened or closed on the go, at speeds up to 50 km/h. A thick, three-ply fabric top, along with sound-absorbing padding and a glass rear window, contributes to a quiet cabin and premium appearance.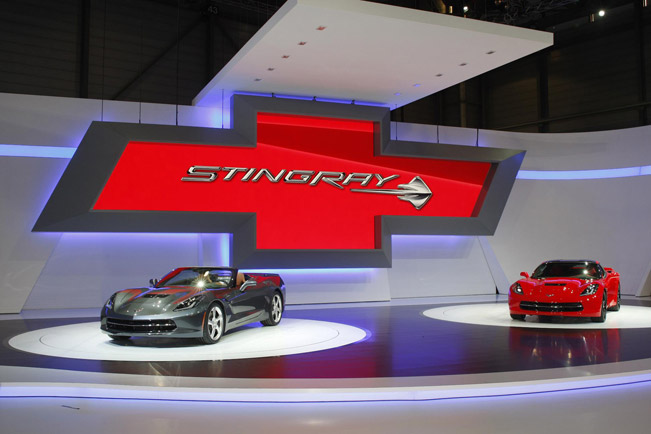 When the top is down, Corvette Stingray's signature profile is further accentuated. Behind the seat backs, dual black accent panels enhance the character lines of the tonneau cover. Here the exterior color is brought into the interior as well and complements it perfectly.
What is more, it has to be mentioned that this Chevrolet model has a sculptured exterior with advanced high-intensity discharge and light-emitting diode lighting and racing-proven aerodynamics that balance low drag for efficiency and performance elements for enhanced stability and track capability.
Furthermore, the interior includes a carbon fibre and aluminium trim, hand-wrapped leather materials, dual eight-inch configurable driver/infotainment screens, and two new seat choices. Some of the advanced driver technologies featured in the model are the five-position Drive Mode Selector and a new seven-speed manual transmission with Active Rev Matching.
Lightweight materials such as carbon fibre hood and carbon fibre removable roof panel; composite fenders, doors and rear quarter panels; carbon-nano composite underbody panels and a new aluminium frame are improving the weight for an optimal 50/50 weight balance that supports a world-class power-to-weight ratio.
In addition, the model is equipped with track-capable Z51 Performance Package, which comes with an electronic limited-slip differential, dry-sump oiling system, integral brake, differential and transmission cooling, as well as a unique aero package that further enhances the high-speed stability.
Both 2014 Chevrolet Corvette Stingray Coupe and Convertible will be available at dealerships in the end of this year.
Source: Chevrolet