2012 Geneva Motor Show: Lamborghini Aventador J
Automobili Lamborghini has just unveiled the long awaited Lamborghini Avendator J, which is on of the most uncompromising open super sports car. The Aventador J offers its pilot and co pilot an indescribable experience of power and dynamics. At the same time, the 515 kW / 700 hp two-seater features first class technology, combining innovative solutions and new materials including carbon fiber. Lamborghini Aventador J is an open automobile – the exterior and interior meld into each other. The top speed it achieves is higher than 300 km/h.
The technical basis for the Aventador J is the Lamborghini Aventador LP 700-4 twelve-cylinder model. Its structure is based on an innovative monocoque made from carbon fiber reinforced polymers which combine systematic lightweight design. Furthermore, the new twelve-cylinder comes with a displacement of 6.5 liters and 515 kW / 700 hp combines the best in high-revving thrills with mighty pulling power. And with a dry weight of 1575 kilograms, the series production Aventador LP 700-4 is extremely light for its performance class. All this, thank to the carbon fiber technology.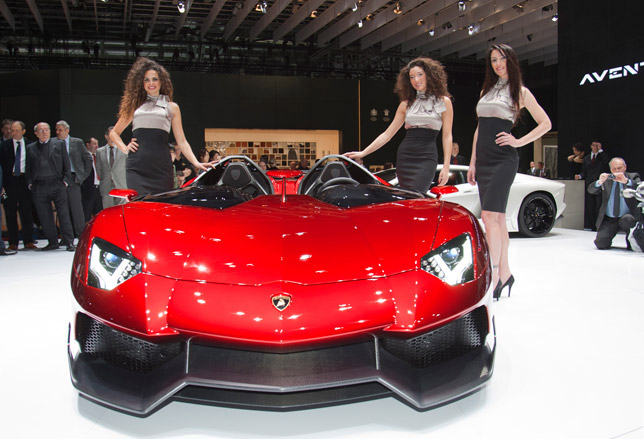 As you can see, the vehicle is with clear, precise surfaces, which at some parts become sharp. They emphasize the power and the enormous presence of the super sports cars. The definging principle in the design of the exterior was "form follows function". The result is the clearly defined Aventador J, which carries explosive dynamics, extreme driving fun, and of course delivers one of a kind experience. In addition, every part of the outer chassis was redesigned for the Aventador J. The car's dimensions for example are extreme: the overall length is 4890 mm, the overall width is 2030 mm, while the height is 1110 mm. Furthermore, the black carbon fiber parts are visible throughout the car: the wide sill elements and the rear diffuser form contrast to the rich red body paintwork. The especially developed red color was created particularly for this car. As you can see it immediately catches the attention: this is a highly intensive red with a slight chrome effect. Next, the wheels - also developed specifically for this car, are with 20-inch rims at the front and 21-inch at the rear. In addition, five-spoke aluminum wheels have a central lock system and an additional carbon fiber insert which functions like a small fan for optimum brake ventilation.
The Lamborghini Aventador J's exterior and interior forms flow effortlessly into each other. The exterior "flows" through the interior with the red stripe, which runs from the front hood, between the two wind deflectors, over the dashboard, down the console to the center tunnel and back up between the seat backs, and eventually heading for the engine cover panel. This band of color is used in terms to connect the front and the rear of the car. In addition, it also creates a visual separation between the driver and passenger.
Source: Lamborghini