Prindiville Lamborghini Aventador J Concept delivers 805 horsepower
2012 Prindiville Lamborghini Aventador J is the latest concept by the exceptional tuners from Prindiville. Although only one image has leaked, we all can see the outstanding stance of the one-off road-legal vehicle.
In details, Prindiville's latest design is based on the Lamborghinis Murciélago and Aventador LP700-4 coupé. The latter is now on sale as a Limited Edition series of only eight examples around the globe.
But let's go further into details and see what is planned for this amazing machine. In order to enhance the performance and handling, the Prindiville J Concept will be significantly lighter and agile. This will happen due to the replacement of many original panels with carbon fibre ones.
Furthermore, the ECU of the 6.5-litre twelve-cylinder powerplant is planned to be remapped to increase the output from 700 hp (515 kW) to 805 hp (592 kW). This means that the Lamborghini will be able to accelerate from 0 to 62 mph (100 km/h) in only around 2.5 seconds! The top speed here will be over 220 mph (350 km/h).
In addition to this there will be also a 15% power upgrade. This will be possible due to bespoke twin Prindiville titanium or stainless steel exhaust system tailored to the stringent demands of a car at home on the road or track.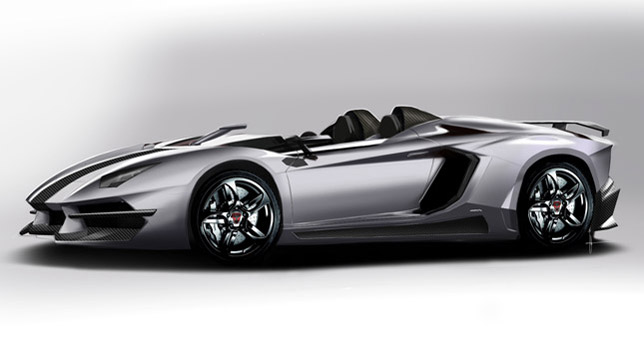 Other modifications planned are the upgraded braking and adjustable suspension systems, which include high performance ceramic discs.
What is more here is that the interior panels and air vents of the Aventador J are made of high-grade milled aluminium. On the other hand, the renowned Prindiville insignia has been etched into the jet black driver and passenger seats. The latter will be wrapped with the finest Italian leather and alcantara.
The interior of the car will include a five-inch LCD TV screen which will grant access to the one-of-a-kind Prindiville Entertainment system. In this system there is everything one driver needs: a DVD player, satellite navigation, and bespoke software featuring maps, setups, and telemetry of some of the most well-known race circuits across the globe, spanning from Silverstone to Laguna Seca.
Of course, the passengers in the car will have the delight to enjoy the surround sound thank to the 1000-watt hand- built Italian subwoofer amplifiers.
Source: Prindiville