Lamborghini Aventador J Revealed
There it is! The Lamborghini Aventador J – J as in FIA's 'Appendix J' regarding the tech spec of race cars. Hope you like wildlife in your hair as this Geneva participant doesn't really make any use of a roof. Or a windshield for that matter. Why would it? It's a 700 bhp open top. Isn't that enough?
Unsurprisingly, the J is based on the Aventador LP 700-4 - An AWD layout with a 6.5-litre 700bhp V12 engine. Imagine the wind resistance one is going to experience on their face whilst closing in on the 300 km/h barrier. They should have called it the Aventador D for Drama.
Obviously, the disposal of otherwise vital components calls for some structural changes. An innovative monocoque construction made from carbon fiber reinforced polymers combines lightness with optimum stiffness and strength. There are two safety bars behind the seats that are made made from a forged composite and reinforced with carbon fiber inserts. The thing about open tops and convertibles is that most people cringe at the sight of them knowing that speed and agility have been compromised. However, that's not the case with the Aventador J. Because we don't have a roof or a windshield, we also don't have air conditioning. There are no distractions inside (if we can call it an inside) – Things like the satellite navigation and audio system have been deemed redundant. The J's cockpit and parts of the seats are clad in a material called "Carbonskin" - woven carbon fibers that have been soaked in a special epoxy resin that stabilizes the fiber structure and keeps things soft and flexible. All that hi-tech, light weight material and the feature diet make the bull extremely light – 1575 kg of dry weight.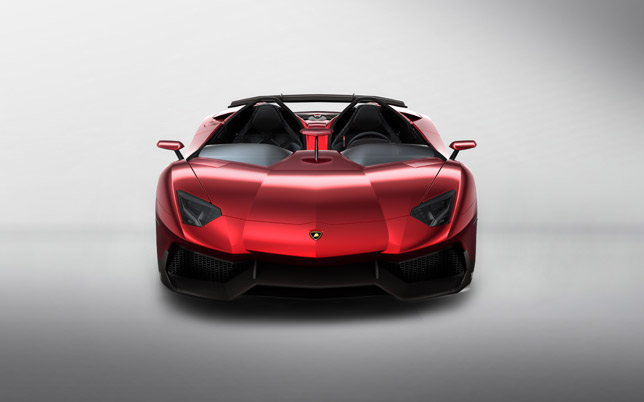 Lamborghini have put to use these materials in the maddest of ways. See that horizontal stabilizer pinned between the two inferior looking wind guards? That is not a horizontal stabilizer but a rear view mirror. The front nose is narrower than the standard one and is dominated by a highly distinctive carbon fiber air scoop. Upward fins on the side complete the look. The wheels are 20 and 21-inch front and back respectively and carry a five-spoke design and an additional carbon fiber fan-like feature that vents air toward the massive brakes. All you need to know for the back end is that it has a carbon-fiber rear diffuser, four huge tail pipes and an enormous fixed spoiler mounted on the bodyshell by two arms.
So far, only one Aventador J has been made (Unica) and at the end of the Geneva Motor Show it will be sold to someone who would be brave enough and strong enough to handle it. This car is not a concept, not a prototype but a fully functional, road legal roadster.
Soruce: Lamborghini