German Special Customs Mercedes-Benz CLS63 AMG Stealth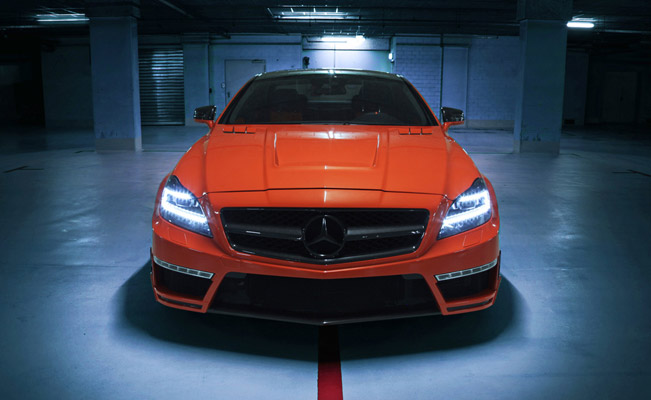 German Special Customs Mercedes-Benz CLS63 AMG Stealth is an aerodynamic construction set to capture the hearts of the true customization fans of Mercedes-Benz. The CLS63 AMG is definitely everything else but inconspicuous because of its luminary orange color taken from the Lamborghini Aventador color range.
To go further into details, the front bumper bar of this machine is equipped with integrated LED daytime running lights. This gives it more aggressive appearance in combination with the new engine hood and its abundant hot air outlet in an even more significant manner. In addition, the GSC tuners have added new fenders and new side skirts with shaft.
Looking at the rear of the car, the aggressive design theme is continued thanks to the new bumper with integrated carbon-fiber diffuser and side air outlets. What is more, the angular end-pipes of a four-pipe sports exhaust system from high-grade steel were integrated in the diffuser.
The result is an audible effect of the powerful 5.5 liter Biturbo-V8 unit that generates 750 hp (552 kW) and has a maximum torque of 1150 Newton meters (850 lb-ft). This means that there is additional 225 horsepower (165 kW) in contrast to the serial vehicle.
The extra force came through the "eight pointer" amongst others, one set of bigger turbo charger, an additional water cooler for the charge air intercooler and a new exhaust system. The outcome is that the Stealth accelerates from 0 to 100 km/h in just 3.7 seconds on its way to a top speed of 350 km/h.
The handling was also optimized. GSC installed a KW coil-over suspension with adjustable dampers on the front axle. Moreover, the car runs on Michelin high-performance tires of the dimensions 255/30R20 and 305/25R20 made of the own-brand alloy wheels of the dimensions 9x20 and 10.5x20 inches.
At last, the interior enhancements are analogous to the exterior casing, the passenger gets a colorful ambience with orange-colored Lamborghini leather and diverse carbon applications.
Source: German Special Customs