German Special Customs Mercedes-Benz G63 AMG Delivers More Power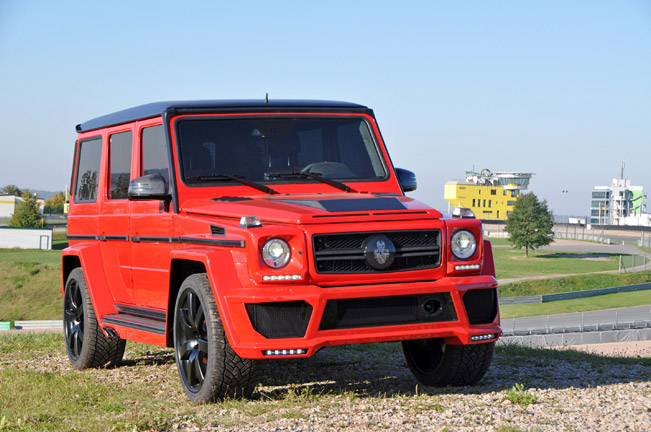 German Special Customs Mercedes-Benz G63 AMG is a pure off-roader with a monstrous 5,461 ccm V12 biturbo engine beneath the massive engine hood. Originally the engine's power is rated at 612 horsepower (450 kW) and draws from a maximum torque of 1000 Nm (738 lb-ft).
The tuners at German Special Customs have created an optimization package for this Mercedes-Benz model, which enhances it performance. It is a multi-part broad construction kit that delivers not only a clearly more sportive appearance but also strongly expands the broadness of the G-class.
Firstly, GSC installed at the front a broad bumper bar, a new radiator cowling made of carbon fiber and a set of LED daytime running lights. Next, the engine hood look more massive due to an attachment made of carbon for the improved de-aeration of used engine air.
Massive wheelhouse expansions which run smoothly into the side skirt also contribute towards the broad appearance of the vehicle. In addition, the trapezoidal end-pipes made of stainless steel were integrated at the rear. At this part of the off-roader can also be seen a new rear bumper bar that matches the front as well as carbon cover for the spare tire in the rear.
What rounds-off the exterior are the external rearview mirrors and ventilation slits in the engine hood, all made of carbon fibre.
Another highlight in this project is that GSC has also enhanced the engine's performance via software. The unit now develops 620 horsepower (455 kW). A modified exhaust system is also present.
What puts all this power on the road are the 23-inches forged rims fitted with special tires in the format 305/35 R23 on the four ends of the AMG chassis frame. The interior of the G63 AMG was also improved thanks to a black and red full-leather fitting and different ornamental carbon parts.
Source: German Special Customs