GSC Mercedes-Benz CLS 63 AMG
German Special Customs (GSC), based in Chemnitz, Germany, like to add their own touch on already slightly mad vehicles. Take for example, the Mercedes-Benz CLS 63AMG (W218) – impressive enough, isn't it? Well, the way they see it, there's always room for improvement.
The front bumper is new and harbors massive lower mesh grills and some LEDs. The hood has also been replaced with something that is most certainly not waterproof. Move to the sides and you'll notice that the side skirts are now a bit more pronounced and as for the back, the bumper is entirely new along with its carbony rear diffuser. GSC have dubbed the whole aerodynamic project as "Stealth" which sounds inappropriate since it's pretty noticeable. However, it does make the car very edgy and slightly unconventional much like F117 Nighthawk airplane – designed to deflect radar signals. In addition, that matte overall finish makes us think that this particular AMG has been borrowed from the set of The Avengers movie.
And much like Captain America, this CLS has also been scientifically buffed. Normally, AMG manage to pump out 525 hp from its 5.5 bi-turbo V8. GSC have raised that bar up to 750 hp and 1,150 Nm of torque. In order to achieve that, the company's engineers replaced the two turbochargers with ones that are... well... bigger, replaced the exhaust system and have also added another intercooler. As a result, the "Stealth" now does the 0 to 100 kph sprint in just 3.7 seconds and will continue gathering velocity until it reaches 350 km/h.
That however, would not have been possible with the performance upgrade alone. To tame all that power, a more-proper suspension is needed and that's where a KW coilover adjustable suspension kit comes in place. Take into account the 20-inch rims, the 255/30R20 and 295/25R20 Continental tires on them and you get a well rounded ultra-performance four-seater.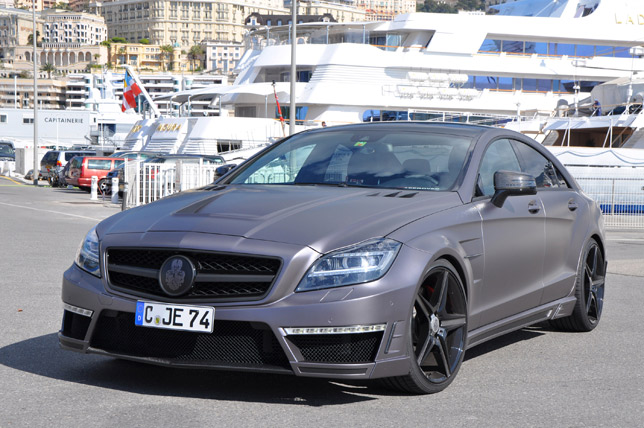 Source: GSC