GGR's RS 340 engine tuning for Focus RS
Few days ago the leading Ford RS specialist Graham Goode Racing Ltd (GGR) announced the RS 340 engine tuning package for the new Mk2 Ford Focus RS. The newly developed engine upgrade requires no additional mechanical modifications, because it is purely an engine management conversion.
Consisting of an ECU upgrade using the Superchips platform, the conversion requires firmware modifications and software reprogramming, the latter using the renowned Superchips Bluefin hand-held unit.
Bluefin enables customers to store their standard ECU map for future use and also enables GGR to conduct further ECU remapping if additional mechanical modifications are carried out on the Focus RS at a later date.
Careful recalibration of the already potent 300bhp 2.5-litre Duratec turbo powerplant's engine management by Superchips has delivered significant performance improvements from the Focus RS and now GGR, as a leading Superchips dealer, is in a position to offer this package to the Ford enthusiast market.
Post upgrade, the Mk2 Focus RS produces power gains from just 2750rpm, with total output rising to a scintillating 340bhp at 5600rpm. Maximum available torque reaches a peak output of 397lb.ft at 3100rpm, highlighting the flexibility of GGR's RS 340 performance package.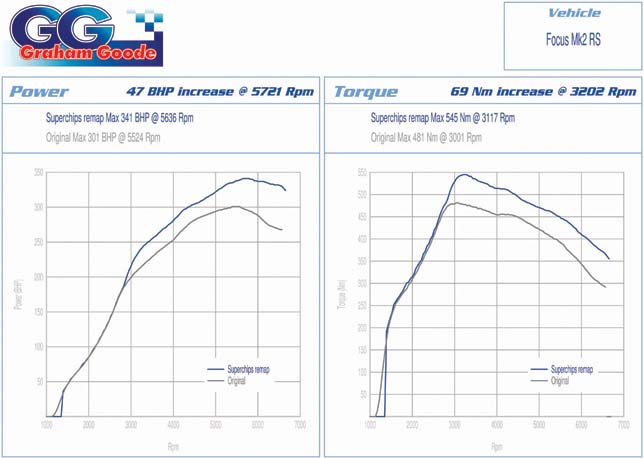 For total peace of mind, GGR's RS 340 performance upgrade is covered by Superchip's comprehensive 12 month / 30,000 mile breakdown warranty.
Priced at £435.00 including VAT at 15%, the GGR Mk2 Ford Focus RS 340 performance upgrade is available now from Graham Goode Racing Ltd.