GKN Driveline Torque Vectoring World-First For New BMW X6
GKN Driveline's high performance Torque Vectoring technology has made its world debut on the new BMW X6 'sports activity coupe'. GKN's new technology is at the heart of BMW's Dynamic Performance Control (DPC) system, which is being pioneered on the new, highly acclaimed, 4x4 vehicle. The company also supplies the latest front and rear side shafts for the X6.
GKN Driveline has jointly developed Torque Vectoring technology with ZF. In this first production application for BMW, GKN's Torque Vectoring hardware units are supplied to system leader ZF, responsible for the final assembly and supply of the Vectordrive rear axle system.
The BMW X6's dynamic performance and stability control systems, of which GKN Driveline's Torque Vectoring products are active components, overcome the tendency of 4x4s to understeer when cornering under power at speed. BMW engineers developed integrated chassis management control software to manage all the disparate systems to produce an overall package that redefines the dynamic performance, safety and all-terrain ability of powerful SUVs such as the X6.
Graeme Walford, managing director of GKN Driveline Torque Technology said, "The challenge for premium car manufacturers is to provide greater sophistication in driving dynamics whilst at the same time minimising weight and cost. With our latest driveline technologies in torque vectoring and sideshafts GKN has been able to help BMW achieve a remarkable first with the X6".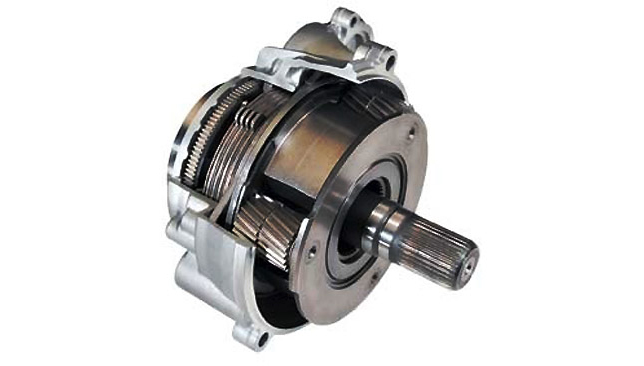 GKN Driveline's Torque Vectoring hardware units re based on a modular, cost effective approach, designed to be easily adaptable to a range of vehicles. Two units per axle provide the requested vectoring torque by a superimposition planetary gear set electronically controlled at the ZF system level by an electric motor actuated clutch. GKN Driveline's actuator hardware consists of a wet clutch and a two-stage ball ramp mechanism to achieve the accuracy within the required response time. The gears of the planetary gear set are only active when needed to realise best fuel efficiency. The wet clutch is designed for high thermal capacity and very low drag torque.
Various unique features including the design of the gears and the ball ramp have been introduced and patented by GKN Driveline.
The new Torque Vectoring technology is specifically targeted at rear axle application on premium RWD and AWD passenger cars and SUVs and further strengthens GKN Driveline's product range in this segment, which includes an electronically controlled limited slip differential (ETM®), electronic locking differential and a range of passive limited slip differentials.