See How This GMC Yukon Denali Runs the 0-60 mph in 4.5 seconds! [VIDEO]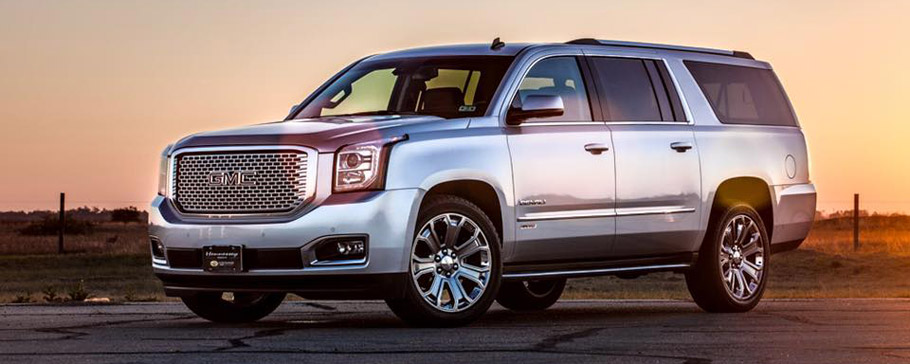 2015 GMC Yukon Denali or the latest variant of the vehicle, which was recently released on the market, is powered by a potent 6.2-liter powerplant. The engine delivers crushing power of 420 hp (313 kW) and 623 Nm (460 lb-ft) of torque. This of course isn't enough for many compact cars to accelerate from 0 to 60 mph in 4.5 seconds. And it isn't for the Yukon Denali.
And this is where the tuners from Hennessey Performance stepped in. Known for their expertise in supercharging, they managed to give this GMC more power and more qualities, which will bring it closer to the 4.5 s.
SEE ALSO: Hennessey Performance Creates 1000HP Chevrolet Camaro Z/28 [VIDEO]
After the modifications were done, Hennessey Performance specialists tested the vehicle and the good news is that everything was captured on video, which you can see below. There is a second footage, which previews John Hennessey test driving and discussing the 2015 GMC Yukon Denali XL with HPE650 Supercharged upgrade. And here it is with all of its features:
Hennessey HPE650 Supercharged Upgrade
The upgrade is available only for Yukon models equipped with the 6.2L V8 engine.  It raises the power to 650 hp (448 kW) at 5,500 rpm and 892 Nm (658 lb-ft) of torque at 4,200 rpm. This is exactly an extra of 230 hp and 269 Nm, and was achieved with the addition of 2.9 liter supercharger, high flow intercooling and stainless steel catback exhaust system.
Hennessey has also prepared a serial-numbered dash plaque and engine plaque, and exterior badging as well as Hennessey embroidered headrests signifying the origin of the vehicle. Now, don't miss the videos!
Video Source: YouTube
Source: Hennessey Performance