G-Power BMW M3 Tornado RS
G-Power has unveiled the fastest road legal BMW M3. The M3 Tornado RS now is equipped with SK III "Sporty Drive" supercharger system and the results are really mind blowing.
G-Power BMW M3 Tornado RS produces 720PS (529 kW) at 8100RPM, which is exactly 300PS more than the original E92 M3. The torque is 700Nm (519 lb-ft), which is also 300Nm increase over stock.
The performance as you may suggest is brutal – 0 to 100 km/h in 3.7 seconds and to 200 km/h in just 9.5 seconds. The top speed is somewhere over 330 km/h (205mph+).
All this is achieved thanks to a new crankshaft increasing the displacement of SK III-equipped M3s by 15%, from 4.0 to 4.6 litres. The powerful ASA T1-723 supercharger makes just 0.5 bar pressure. There is also an optional carbon fiber airbox weighing just 4 kg.
Finally, the specialists from G-Power fitted the tuned M3 with a titanium exhaust system featuring free-flowing 100 cpsi metallic catalytic converters. The price for this pleasure is € 35 000 including installation.
This is The Devil itself.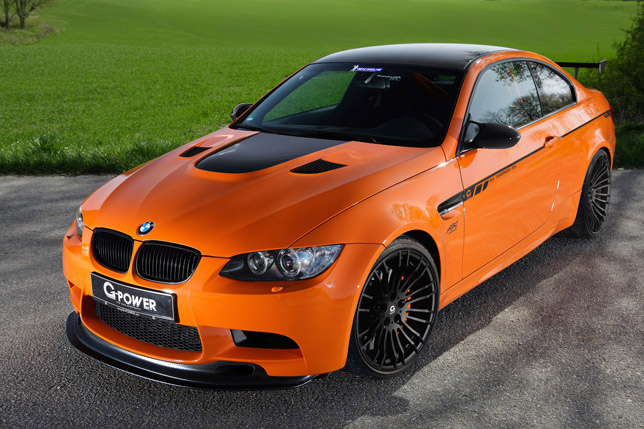 Source: G-Power