2012 Graf Weckerle Mercedes-Benz SL 500 – Athletic Elegance Meets Maritime Attitude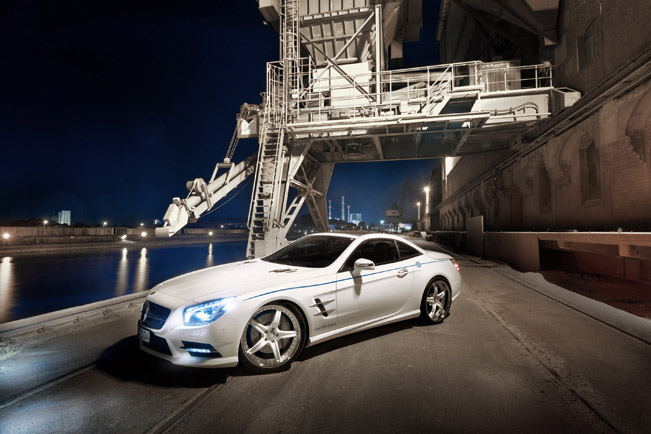 2012 Graf Weckerle Mercedes-Benz SL 500 is a great example how exquisite and outstanding a car tuning might be. This Mercedes-Benz conveys entirely the competence and passion of the Graf Weckerle team when it comes to the absolute individual and classy refinement.
As an inspiration the tuners used the maritime theme for both the exterior and interior of the car. For instance many precious design details recite the sophisticated atmosphere found in marinas all over the world, giving the car an incomparable sporty and athletic yet noble appearance.
In order to bring the maritime design idea to life, the team decided to create a one-of-a-kind version of the Collection Sport forged performance wheels. A special white coating of the wheel disc was joined by polished aluminum wheel rims and chrome-plated wheel fasteners which match perfectly the polished wheel center cap.
Furthermore, the SL 500 was equipped with 9.0 x 20 inch wheels on the front axle and 10.5 x 20 inch on the rear axle. The tires fitted here are the 255/30 R 20 and 295/25 R 20 respectively.
In order to enhance the exterior of the German car they have finished it with a final maritime touch. This includes a hand-painted Graf Weckerle Coachline with an integrated Graf Weckerle brand logo. The color of the Coachline was navy blue.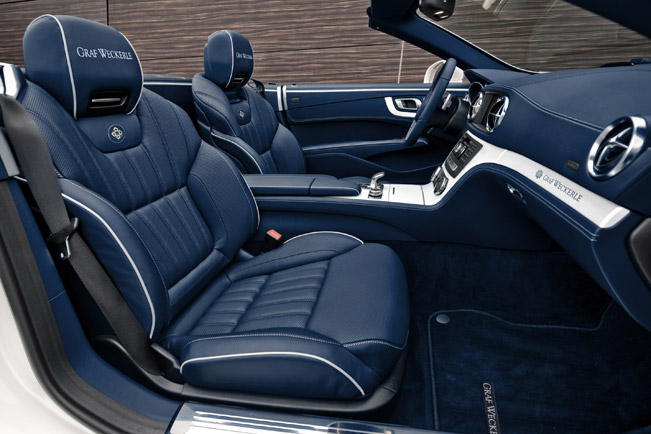 Attention to the interior design has also been paid. It continues the maritime theme with the special leather color in navy blue. In fact, it covers almost the complete interior. The blue leather is further accented by contrasting white stitching and piping.
Graf Weckerle brand emblems have been additionally integrated into the original seat design. In fact, they were made of pure 750 white gold. To be more precise, the emblems were finished with white enamel which is carefully applied also by hand.
But this is not all that has been done on this 2012 SL 500. It was also equipped with progressive lowering coil springs which enhance both visual appearance and handling. An engine performance kit was included in order to optimize the performance of the car.
Source: Graf Weckerle