Gumpert Apollo Tattoo Car Revealed [VIDEO]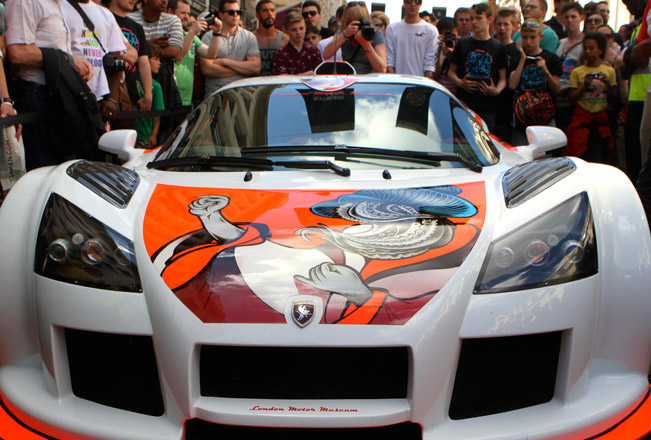 Inked Gumpert Apollo has made a successful debut on 8th of June as announced in the beginning of the month. A lot of people gathered on a sun-drenched Regent Street in London to watch the official unveiling. This is one of the world's first tattooed cars and it will participate in the Gumball 3000 Rally. It took exactly two weeks for the tattoo artist Aleksy Marcinow to ink the supercar and make it look really amazing! For this project, Marcinow collaborated with London Motor Museum. At the official premiere of the car, he and the owner of the museum have revealed this unique Gumpert.
In fact, the Apollo is one of the fastest cars in the world. It is powered by a4.2 liter bi-turbo V8 engine constructed by Audi and can produce up to 650 horsepower (478 kW). It is also one of most powerful street-legal cars ever created and can accelerate from 0 to 62 mph in 2.9 seconds. It has a top speed of 205 mph.
The inspiration for vehicle's design was taken from Japanese art and irezumi. The latter is an area he is currently exploring. He has also disclosed that he has never tattooed a car before and at first it seemed like a crazy idea. However, he enjoyed the process and found that tattooing a car had many similarities to tattooing the human body. You can watch the video below to get sure of this!
Video Source: YouTube
Source: London Motor Museum