Gymkhana Seven - Wild in the Streets of Los Angeles [VIDEO]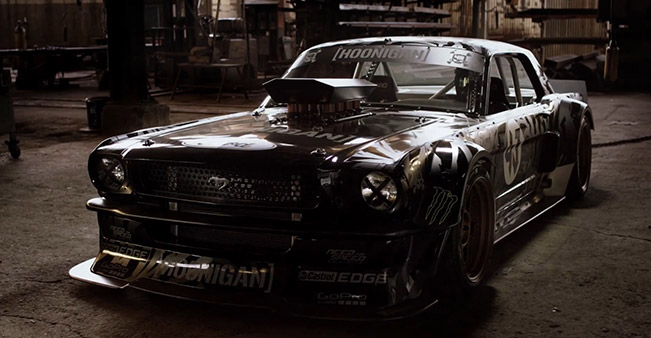 It roars and fumes and crosses the streets of Los Angeles like it owns them. This is the 1965 Ford Mustang modified to hell with 4-wheel drive! If the entire city could belong to it, why couldn't the car have the whole world too? Well, it probably could as the recently launched video of the mind-blowingly good performance of the custom-made Mustang already circles around the history of people's browsers worldwide.
The beast is powered by Roush Yates 410 cubic inch Ford V8 engine that boosts the WOW-ing 845 hp and 720 lb-ft with individual throttle bodies. The monstrous Ford Mustang has 6-speed Sadev SC90-24 all-wheel drive transmission with a hydraulic handbrake system as well as custom ASD Motorsports-designed geometry and elements. The outstanding (yet in a way too ornate) 1965 widebody Ford Mustang is created by Ken Block, Hoonigan and RTR. There is ASD Motorsports full tubular chassis, ASD Motorsports custom roll-cage, door bars and front/rear suspension mounts and, finally, RTR carbon fiber body panel. The muscle car benefits from fifteen52 three-piece R40 18- x10.5-inch wheels with Pirelli Trofeo R, 295/30R18 tires that are modified with custom Ken Block compound.
In the video we see Ken's 1965 Mustang powerfully exiting a cloud of emitted fumes. And as it exits, it looks like a carnivore that is ready to eat on your flesh. Figuratively speaking of course. Screams down the streets of LA, the Mustang covers every corner with such precision and acuteness that would make the edge of a knife feel as soft as butter.
This is definitely a performance which will either make your heart beat ten times faster or will make it stop in a gasp of amazement (Or might just make you wonder what the hell?!).
If you still have not watched the video, just click on the link bellow.
Source: TheHoonigans via Youtube