Hamann BMW M5 at Geneva
Apart from the Hawk SLS AMG Roadster, Hamann have a BMW M5 ready for us at the Geneva Motor Show. That means more style, more dynamics and more fun in a package of quality and exclusiveness.
Hannman focused on expressing the M5 posture. A wide posture in this case – 25 mm over the standard front wings and 30 mm more at the back. Combine that with a lower center of gravity thanks to special springs provided, and you get a fully blown, wide, mean, lean sports saloon that can put to shame even touring cars. An additional down force comes from the custom front and rear aprons, side skirts and roof and trunk spoilers. So there wont be a need for grip we presume
But just to be sure, Hamann have provided some sticky and wide (325/25 ZR 21 at the back just to get an idea of how wide) Continental Sport Contact 5P tires that go on the 9.5Jx21-inch front and 12.0Jx21-inch rear wheels. And the wheels themselves have a sporting pedigree, being all light and "anodized", fitted with titanium bolts.
Hamann are still working on the power issues. With the addition of a new sports muffler and some crafty engine-management, the M5's V8 is expected to deliver 120 PS and 220 Nm of torque more than it normally does.
For the interior, the company has gone the extra mile. The cabin has the feel of a VIP lounge crossed with motorsport accents. Leather wraps around the seats, the wheel and the center console. Aluminum pedals peak at you from the foot well. Alcantra materials are also available as an option for the picky customers.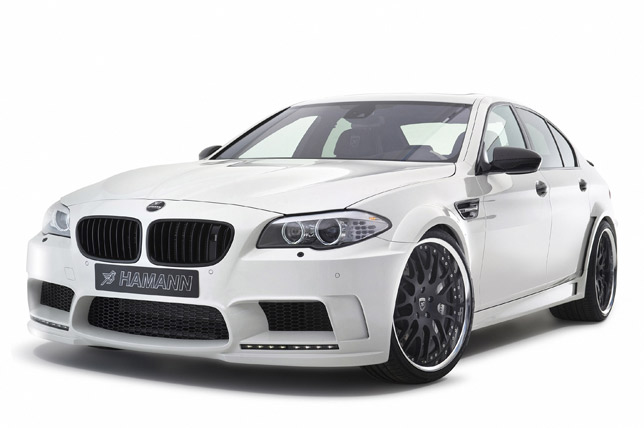 Source: Hamann